RWSN Resources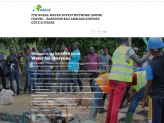 Downloads: 61
---
Author: FUREY, S. G. (editor)
Year of Publishing: 2017
Publisher: Skat Foundation
Institution: RWSN
The 2016 Rural Water Supply Network Forum in Abidjan was the first global gathering to consider the practical challenge of how everyone worldwide can get access to safe, affordable water by 2030. It was also the first RWSN Forum to take place in a francophone country, in the 25 years since the creation of the network.
The Forum gathered 467 rural water sector practitioners from over 300 organisations from 64 countries in Africa, Asia, Americas, and Europe, in a bilingual (English/French) four day event. It was opened by the Prime Minister of Côte d'Ivoire, Mr Daniel Kaplan Duncan. We were joined by HE State Minster James Dengchol Tot, Minister of Water, Irrigation and Electricity of Ethiopia, as well as a delegation from AMCOW.

This Forum proceedings compiles all peer-reviewed materials. Separate downloads and links to the films can be found at: https://rwsn7.net/content/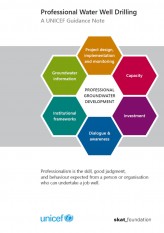 Downloads: 975
---
Author: Danert K., Gesti Canuto J.
Year of Publishing: 2016
Publisher: Skat Foundation
Institution: Unicef
This guidance note provides practical guidance for organisations and individuals that are trying to raise the professionalism of groundwater development in Africa. The guidance note is mainly concerned with rural and small towns' water supplies but is mindful of the huge challenges faced by supplies in many growing African cities dealing with problems of groundwater quantity and quality.

DOI: 10.13140/RG.2.2.21914.64964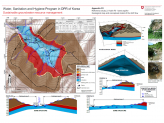 Downloads: 156
---
Author: BUSSARD, T.
Year of Publishing: 2016
Publisher: SDC
Institution:
The main objective of the present guideline is to ensure the protection of groundwater intended for human consumption. Consequently, it is mainly focused on the protection of groundwater sources (e.g. pumping well, tapped springs). However, although the protection of sensitive areas for drinking water supply must be given high priority, good practices have to be implemented at a larger scale too, in order to sustain the resources as well as the aquatic ecosystems: awareness must be built in order to avoid any contamination of the water cycle (quality aspect) and to preserve water resources (quantity aspect), in particular within the aquifer areas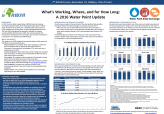 Downloads: 73
---
Author: Banks, B. & S. G. Furey
Year of Publishing: 2016
Publisher: RWSN
Institution: GWC/Skat
• An average of 78% of water points are functional across the 11 countries analyzed.

• The high failure rates early after installation are troubling: almost 15% after one year and 25% of water points are non-functional by their fourth year after installation. This indicates widespread problems with poor quality water point installation, due to a range of problems that may include professionalism and skills around contracts, construction and supervision; borehole siting; lack of quality control of hardware; or lack of post-construction monitoring and problem resolution.

• Handpumps are often singled out as technology that fails, but analysis of other water point types show similar functionality levels, and that tens of thousands of handpumps are providing a service

This poster was peer-reviewed and presented at the 7th RWSN Forum in Abidjan, Cote'Ivoire 2016.

It replaces "Handpump Data 2009 Selected Countries in Sub-Saharan Africa" (2009)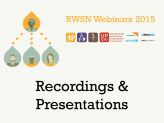 Downloads: 514
---
Author: Kerstin Danert
Year of Publishing: 2015
Publisher: RWSN
Institution: RWSN
Presenters from more than 25 different organisations, working in over 20 countries share their practical experiences and research findings. Participants have the opportunity to ask questions, and meet others with similar interests at the events. Topic covered include:
- radio for rural water supplies, drawing on practical experiences from Kenya and Tanzania.
- Self-supply in emergency and development contexts, and we shall be hearing from Sierra Leone as well as Ethiopia, and on the costs and quality of self-supply as well as government roles.
- a series of webinars on groundwater.
- experiences about dealing with gender, violence and access to WASH
- rainwater harvesting
- etc.

All of the presentations and links to the recordings will be posted here within two to three days of each webinar.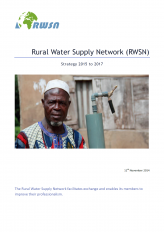 Downloads: 405
---
Author: RWSN
Year of Publishing: 2014
Publisher:
Institution:
This Strategy sets the direction of the Rural Water Supply Network (RWSN) for the next three years. It explains what we are trying to achieve, how, why and who. The four themes from the previous strategy will continue, with some changes of focus, and "Mapping & Monitoring" becomes a cross-cutting topic.

This is not the definitive final version so may be subject to change over the next few weeks or months.
Pages: 1