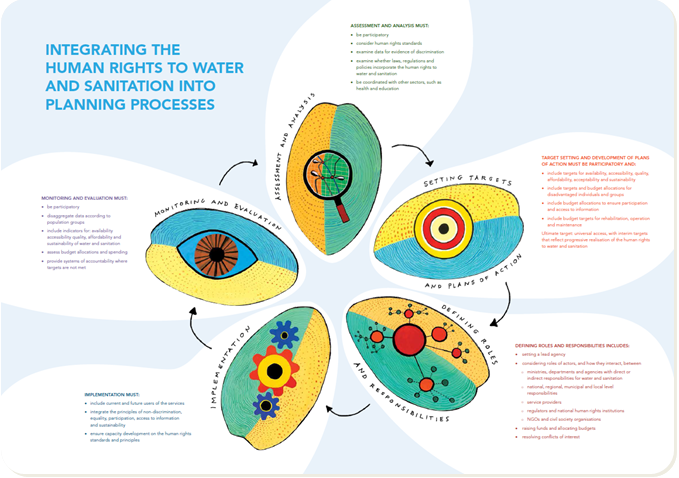 [click figure above to go to download PDF from www.righttowater.info]
Equality and non-discrimination are the bedrock principles of human rights law. The Universal Declaration of Human Rights states in article 1 that "All human beings are born free and equal in dignity and rights," and in article 2 that "Everyone is entitled to all the rights and freedoms set forth in this Declaration, without distinction of any kind. […]."
In order to achieve substantive equality, States have an obligation to prioritise individuals and groups particularly vulnerable to exclusion and discrimination. Depending on the circumstances, they may need to adopt targeted positive measures to redress existing discrimination. There are times when historical or deeply engrained discrimination will be so intractable that temporary special measures – often called "affirmative action" or "positive discrimination" – are required. Where barriers exist and persist, leading to the denial of rights to individuals and groups, positive measures are necessary to ensure the equal participation of all and the redistribution of power and resources to groups subordinated by discrimination (CEDAW, 2004).
Participatory processes will not automatically include everyone. When no specific measures are taken, men, majority ethnic groups, the wealthy, higher social status and more educated people and households tend to dominate participatory processes. Identifying disadvantaged individuals and groups requires deliberate efforts because they are often invisible to policy makers. Processes to identify everyone concerned can be more successful by decentralising processes, by working together with a wide range of local NGOs and the national human rights institutions as well as others who can help identify the most marginalised individuals.
Universal access means access for everyone, leaving no-one out. The SDG focus provides the political endorsement for RWSN to redouble its efforts regarding Equality, Non-discrimination and Inclusion and strive towards the fulfilment of the human right to water. RWSN has renamed the theme that was previously Equality, Non-discrimination and Inclusion (ENDI) as "leave-no-one behind". The theme leaders feel that this term is widely used across all SDG sectors, and it clearly encapsulate the vision of the network, shining the spotlight on the hard to reach. The theme is still firmly based on the human rights principles of equality and non-discrimination, with a practical focus on inclusion.
Topic: Making Rights Real (Human Right to Water and Sanitation)
Expected Outcome: The content of the Handbook on human rights to water and sanitation is understood by practitioners and helps to make local governments more accountable to poor rural communities
Activities:
Knowledge Sharing & Networking: (i) Share materials and experience of use; (ii) E-discussion in RWSN community; (iii) Updates through RWSN Secretariat
Inspiring & Embedding: (i) In-country training; (ii) online courses.
Resources: