RWSN News
Total Results: 43 • Page 1 of 5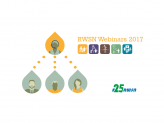 New 2017 RWSN Webinar series (18th April - 13th June 2017)
Nouvelle série de webinaires RWSN 2017 (18 avril - 13 juin 2017) / Nueva serie de webinarios RWSN (18 de abril - 13 de junio 2017)
22.03.2017
ENG: RWSN is delighted to announce the first of the 2017 series of webinars (on-line seminars) on rural water supply, running every Tuesday from April 18th, 2017 until June 13th, 2017. This series includes 9 weekly sessions on topics, which were presented and debated during the 2016 RWSN Forum in Abidjan, and related to the RWSN themes. For instance, we will find out about local government superheroes and their role in realising the human right to water and sanitation, but also hear about emerging cross-cutting issues such as improving WASH services in protracted crises. Each session will be bilingual, with one webinar in English as well as another language (French or Spanish) as we are trying to cater for a wide and varied audience. The format includes 1-2 presentations, comments from discussants, and a Question & Answer session where all participants are invited to ask questions or make comments. For more details on the first 2017 series, please refer to the table below.
The webinars in English start at 2.30 pm Paris time/ 1.30 pm London time/ 8.30 am Washington DC time. You can check your local time here. To register for one or all of the webinars, and receive an invitation please click on the following link: http://bit.ly/2movPGM
10.02.2017
Oscar Carlson, famed designer of the Sholapur hand pump on which the India MK II is based, died in Sweden on January 18th aged 89. Ingrid, his wife of some 60 years, a teacher and social worker, died four months earlier.

Oscar and Ingrid worked together in Sholapur, Maharashtra State, western India, for many years, under the auspices of the Mission Covenant Church of Sweden and the Hindustani Covenant Church.

Oscar Carlson was a rare being, blessed with out-of-the-box imagination and clever engineering skills that he translated into practical solutions to every day technical and social problems. The Sholapur hand pump was perhaps his greatest contribution to improving the lives of rural people, his efforts magnified many times over by the mass produced India MKII.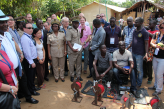 23.12.2016
The 7th RWSN Forum explored the practicalities of reaching the Sustainable Development Goals (SDGs) and the Human Right to Water in rural areas and small towns.

Discussions in all sessions centred around key issues in rural water supply including:

- Provision of adequate water services for women
- The need for increased funding for purchase of spare parts, continuous monitoring and capacity development
- Empowering communities to engage effectively with government to increase access to water and sanitation
- Sustainable rural and small town water supply and the building blocks necessary to ensure sustainable services
- Ways of strengthening local government capacity
- Supporting citizens and media to hold government accountable and put pressure for better service deliver
(Jane Nabunnya, Country Director – Uganda, IRC)

All the papers, posters, presentations and films are available to download from: https://rwsn7.net/programme/
25.11.2016
The 7th RWSN Forum "Water for All" is a 1-in-5 year experience that is bringing nearly 500 professionals from across the world to share experience and work out how everyone can get access to safe, affordable water by 2030.

More than 100 peer-reviewed papers are now available free and online.

So find out what the latest thinking to emerge from researchers, governments, NGOS, private sector and many more.
14.11.2016
Un séminaire de formation d'une journée, portant sur la gestion des eaux souterraines ; il se tiendra le lundi 28 novembre 2016. L'essentiel du cours sera basé sur le manuel de formation publié récemment, et développé par AGW-Net et ses partenaires, disponible en Français et Anglais.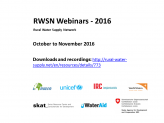 02.11.2016
From the RWSN secretariat we herewith announce the latest webinar of our mini-series 2016, which will take place on 16.11.2016. The title of the event is "A tool for Monitoring the Scaling up of Water and Sanitation Technologies (TAF – Technology Applicability Framework)", and the session will be hold in English (2-3 PM Central European Time, please check your local time here) and in Spanish (4-5 PM Central European Time, please check your local time here). We are happy to announce the two presenters and the titles of their presentations:

- Joshua Briemberg, WaterAid, Nicaragua: TAF as a participative planning and monitoring tool
- Younes Hassib, GIZ, Germany: Scaling up sanitation solutions in Afghanistan

After the two presentations, you will have the chance to ask questions and participate in the on-line Q&A session and discussion around this topic.

To participate, please register here: http://bit.ly/2cy8Uns


---------------
26.09.2016
Registration


Register now to book your place at the Forum. Places are limited and going fast: https://rwsn7.net/participate/register/

Exhibition

We are now taking bookings for exhibition stands. Three sizes are available, starting at €2,300. If you have already registered your interest you will been contacted separately with details. Spaces are strictly limited by the space available so bookings will be first-come-first served. Gold Sponsorship of the Forum includes a medium sized stand (3m x 3m): https://rwsn7.net/participate/exhibition/

We still have some Sponsored Seminar slots for Friday 2nd December. If you are interested, contact Meleesa Naughton (meleesa.naughton@skat.ch )

Event Sponsors
We are very grateful to the event sponsors whose support is making this Forum possible:
GOLD
African Development Bank
The Conrad N. Hilton Foundation
Swiss Agency for Development & Cooperation (SDC)
WaterAid
The World Bank Group

SILVER
ICEX Spain Export and Investments
Skat Consulting Ltd.
USAID

BRONZE
Ajay Industrial Corporation Ltd.
Caritas Switzerland
Helvetas Swiss Intercooperation
IRC
UPGro – Unlocking the Potential of Groundwater for the Poor
Water4

If your organisation or project would be interested in becoming an event sponsor, it is a great way to contribute to the capacity building of rural water professionals and to boost the profile of your organisation, then please contact Kerstin Danert (Kerstin.danert@skat.ch).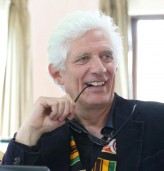 24.05.2016
Ton passed away at the weekend. It is a tragic loss of a great friend and mentor. Our condolences go to his family and all his colleagues at IRC.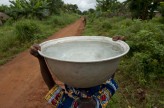 15.02.2016
Today we announce the RWSN Forum which is planned for Abidjan, Côte D'Ivoire from the 29th November to 1st December, plus 2nd December for field trips and sponsored seminars. The event will comprise plenary and parallel sessions of presentations and interactive workshops as well as presentation of posters, photographs, cartoons and films. The event will be in English and French (and possibly Spanish, subject to demand).

With the title, Water for Everyone, the Forum will explore how we are going to reach Sustainable Development Goals (SDGs) in rural areas and small towns? What has worked well in the past? What needs to be done differently in the future? Come and share your experiences of success and failure and learn from others. RWSN Forums have a unique character, with an emphasis on learning and sharing, and a practical rather than political focus. The participants are mainly rural water supply professionals and practitioners. Where political leaders participate, they are encouraged to engage in the sessions and exhibition as equals with the other participants. You can find out more from the Forum Website.
Why attend?
The RWSN Forum is the only global event dedicated to rural water supply and the content and the discussions are driven by you. Come and present your work in a way that suits you – a paper, a poster, a film, a picture or photo, an exhibition stand or sponsored seminar with your own content. The peer-review process also ensures that the best content is presented and that authors with good experiences and ideas are provided the support that they need. We are particularly interested in practical experiences from an operational level. For example, one of the prizes for best paper at the 6th Forum went to Mr Edgar Phiri, a District Water Officer from Malawi.
The success of 7th RWSN Forum depends on you. The Open Call for Submissions deadline is April 30th, 2016. Forum discussions will be based on submissions for long and short papers, posters, illustrations and short films, entered around the following themes:
• Sustainable Rural Water and Small Town Water Supplies;
• Equality, non-discrimination and inclusion;
• Sustainable Groundwater Development;
• Accelerating Self Supply;
• Mapping and Monitoring;
• Rural Water Supplies in the Humanitarian – Development Context;
The event brings together professionals from all types of organisations and at all levels, from entrepreneurs and service providers to government ministers to university professors. We bring the latest in research, practice and policy together to catalyse new partnerships and reinvigorate existing ones. Normally, RWSN's activities are online and through publications, but we realise that nothing beats face-to-face interactions and networking. You can find the delegate list from last time on the 6th RWSN Forum website.

If you would like to attend, please register on: http://rwsn7.net/participate/register/. The early bird registration fee (for all participants) is €500 (up to June 30th, 2016).
The philosophy of the Forum is to:
• be inclusive of different perspectives;
• build capacity by raising the quality of the submissions and improving communication skills within the rural water sector;
• share knowledge and experience on rural water issues among equals
• bring the realities of the field to the attention of decision-makers and funding agencies
• catalyze vibrant South-South exchanges and networking
• be accessible to French and English speakers. For the first time presentations in Spanish will be accepted, and translation/ interpretation will be offered at the Forum if there is sufficient demand and funding.
The RWSN Forum is the foremost global event on rural water services and takes place every 5 years. We anticipate 650 participants from all over the world at the 2016 event which is in English and French.
We look forward to seeing you there.
Warm wishes,
Kerstin Danert, Sean Furey, Meleesa Naughton and Victor Bas Martinez

on behalf of the RWSN Forum International Task Force comprising representatives from
Skat Foundation, SDC, UNICEF, World Bank, WaterAid, IRC and the African Development Bank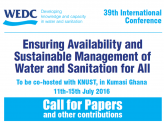 02.11.2015
The WEDC International Conference is a comprehensive and interactive learning event, which provides continued professional development for water, sanitation and hygiene (WASH) sector professionals.