RWSN Resources
Downloads: 318
---
Author: Matthias Saladin
Year of Publishing: 2016
Publisher: RWSN
Institution: RWSN
This field note provides an overview and analysis of the historic developments of promoting Domestic Rainwater Harvesting (DRWH) in Thailand between 1980 and 2015. Based on literature reviews and interviews with stakeholders a series of factors were identified which made the promotion of DRWH in Thailand an exceptionally successful example of diffusion of innovations. Among the key factors identified were policies, market structure, pre-existing habits, affordability, supply chain and climate. No single factor was decisive but several of them occurring simultaneously made it possible for an enabling environment to form and make the initiative flourish even after government funding ran out (most of the Thai Jars, which are most commonly used for rainwater storage, were actually delivered through the private sector and paid by the consumers).
In spite of its large-scale success, the Thai Jar Experience is not a blueprint for replication elsewhere but points out to the importance of cultural and economic aspects, as well as to an enabling environment in general.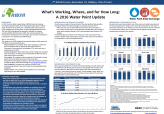 Downloads: 74
---
Author: Banks, B. & S. G. Furey
Year of Publishing: 2016
Publisher: RWSN
Institution: GWC/Skat
• An average of 78% of water points are functional across the 11 countries analyzed.

• The high failure rates early after installation are troubling: almost 15% after one year and 25% of water points are non-functional by their fourth year after installation. This indicates widespread problems with poor quality water point installation, due to a range of problems that may include professionalism and skills around contracts, construction and supervision; borehole siting; lack of quality control of hardware; or lack of post-construction monitoring and problem resolution.

• Handpumps are often singled out as technology that fails, but analysis of other water point types show similar functionality levels, and that tens of thousands of handpumps are providing a service

This poster was peer-reviewed and presented at the 7th RWSN Forum in Abidjan, Cote'Ivoire 2016.

It replaces "Handpump Data 2009 Selected Countries in Sub-Saharan Africa" (2009)
Investment in rural water supply delivers results
Briefing note on key findings from the Joint Monitoring Programme 2015 report1 relating to rural water supply
Downloads: 223
---
Author: RWSN
Year of Publishing: 2015
Publisher:
Institution: RWSN
New figures from the Joint Monitoring Program (JMP) of UNICEF and the World Health Organisation (WHO) show that most countries have achieved substantial progress towards achieving universal access to water for their citizens.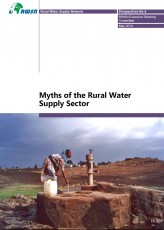 Downloads: 874
---
Author: RWSN Executive Steering Committee
Year of Publishing: 2010
Publisher: RWSN
Institution:
Ensuring that rural dwellers around the world do not have to walk for hours to collect sufficient and safe drinking water is a huge challenge. This short article raises issues for those of us who are involved in trying to improve rural water supplies, whether as donor, Government or NGO; program manager or practitioner. It takes a hard look at our limited achievements, points to areas where our approaches need to be radically improved and sets some challenges.

This paper was prepared by the Rural Water Supply Network (RWSN) Executive Steering Committee. It drew heavily on background papers prepared by Kerstin Danert and Peter Harvey and comments from Richard Carter, as well as the knowledge and experiences from all of the Executive Steering Committee members. The process involved a workshop in September 2008 which agreed the main issues that would be covered by the paper. Barbara Evans produced the first draft of the paper and helped facilitate and document the workshop process. This was followed by an extensive review process in order to reach consensus.
Pages: 1