RWSN Resources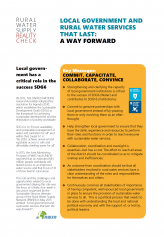 Downloads:
---
Author: RWSN
Year of Publishing: 2017
Publisher: Skat Foundation
Institution:
This paper is a synthesis of the major themes discussed during the local government e-discussion held during May 2015, which included 75 contributions from 58 people presenting experiences in English, French and Spanish and cases from 43 different countries from across the globe. Each week focused on a specific theme. Dedicated week facilitators introduced the theme in the beginning of the week, led the discussion during the week and summarised the main discussion points at the end of the week. The paper highlights the discussed role local government can and does play in ensuring sustainable water service provision, the challenges that local government is facing in fulfilling these roles and responsibilities, and the opportunities for overcoming these challenges.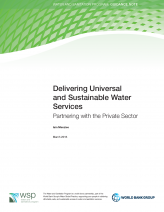 Downloads:
---
Author: Menzies I.
Year of Publishing: 2016
Publisher: WSP
Institution: The World Bank
The objective of this Guidance Note is to offer practical, experience-based guidance to those considering or currently
engaging in PPP in the water sector, and to provide a basic understanding of water PPPs and the PPP cycle to better
inform dialogue with governments that are considering PPP arrangements.

It builds on the experience of WSP in supporting PPP reforms in developing countries, especially through the domestic private sector. Key stakeholders in this dialogue include government at all levels, service providers, policy makers, customers, civil society, and professionals.

Many water PPP engagements in developing countries are more domestically oriented and at a smaller scale than international transactions. This Note outlines a rationale and approach for launching a water sector PPP so that government leaders and private sector providers can have informed discussions about the path forward should they choose to explore this approach in their countries.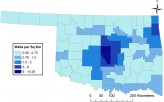 Downloads:
---
Author: WEAVER, J, MURRAY, A, KREMER, F, BLACKWOOD, K and MCELMURRY, A
Year of Publishing: 2015
Publisher: United States Environmental Protection Agency
Institution: United States Environmental Protection Agency
Private domestic wells are not subject to the testing requirements of the Safe Drinking Water Act and are susceptible to contamination by natural and anthropogenic contaminants. For public health and planning purposes, the locations of high density of private domestic well (PDW) use need to be determined. A key resource is the 1990 U.S. Census where the source of water was a survey question, which led to a nationwide estimate of PDW usage. In this paper, methods are developed to estimate the areal density of PDW use in later years using readily accessible data including the 1990 census results. Because of abundant data on PDW locations and public water supplies, Oklahoma was used for a pilot project. Well logs reported to the Oklahoma Water Resources Board and the addition of housing units provide the means to update the 1990 census estimates. Census results and housing unit data are available on the county, census tract, and census block group level. PWD density estimates were consistent among these scales, as were estimates based on wells added and net housing units. The completeness of reported well logs was tested by counts from neighborhoods with known reliance on PDWs. The results showed that a significant undercounting of logs exists, and the small scale of subdivisions relative to even census block groups causes the method estimates to be lower than subdivision PDW densities. The estimates, however, indicate locations where high densities of PDWs are expected.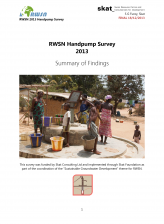 Downloads:
---
Author: FUREY S. G.
Year of Publishing: 2013
Publisher: Skat Foundation
Institution: Rural Water Supply Network
Manual pumps have been used for centuries but this simple technology remains the mainstay of rural water supplies in many countries. The Handpump Technology Network (which later became RWSN) was set up in 1992 to promote collaboration and standardisation so that handpumps could provide more reliable and better quality rural water services.

This survey is aimed at practitioners in government, NGOs, private sector and development partners who are directly involved in rural water service implementation, or who are involved in the procurement of handpumps or spare parts (as either a buyer or seller).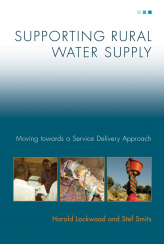 Downloads:
---
Author: LOCKWOOD, H. and SMITS, S.
Year of Publishing: 2011
Publisher: Practical Action Publishing Ltd.
Institution: IRC/Aguaconsult
Collectively, billions of dollars have been invested in the provision of rural water supply systems in developing countries over the past three decades. This period has also seen an evolution in thinking and practice around the approaches to delivering water supply to rural populations. We have moved from supply-driven centralised government programming to more demand-driven approaches, based on the philosophy of community participation with community-based management emerging as the principal management vehicle from the 1980s onwards in most countries. In more recent years there has been a call to build on community management with more structured systems of post-construction support and the increasing involvement of local private operators. Global monitoring results tell us that progress is being made and that even including population growth, we are increasing the rate of coverage in many, but not all, countries at a pace that will meet the Millennium Development Goals.

DISCLAIMER: This is a non-RWSN publication and endorsement by RWSN or any of its member organisations should not be inferred.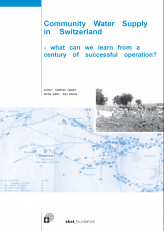 Downloads:
---
Author: SALADIN, M.
Year of Publishing: 2004
Publisher: Skat Foundation
Institution:
In the last decade there has been a marked shift towards decentralisation in many developing countries as responsibilities are passed from national administrations to local authorities. In many places this shift to a local approach has left the communities isolated and struggling.
Many infrastructure projects are in difficulties because of the lack of organisational support and know-how. In Switzerland, rural communities have developed and managed their own water supply networks for a long time – in some cases over 100 years. There may be lessons that have been learned in Switzerland over this period that could be helpful - if properly adapted - to communities in developing countries as they take responsibility for their own systems.
Pages: 1