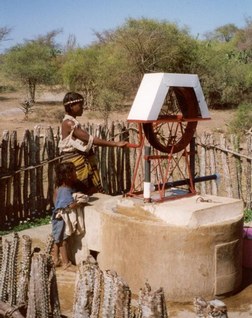 The Rope Pump features a unique design in which small plastic pistons are lined up on a rope. The distance between the pistons is approximately 1 m. The drive wheel is crank operated and pulls the rope through a plastic rising pipe. The drive wheel consists of cut old tires. A concrete guide box with a glass bottle at the well ground leads the rope with the pistons into the rising main pipe.
RWSN work has particularly focused on rope pumps in Nicaragua, Madagascar and Mozambique and public domain standards and guidlines have been produced.
The mode of operation of a Rope Pump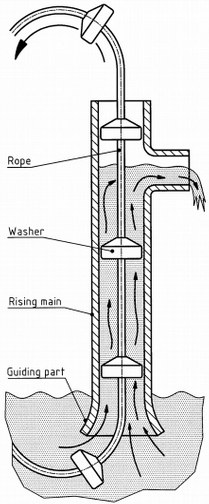 This pump type works with a loop of rope, which is pulled through a plastic riser pipe. Regularly spaced washers are fixed on the rope (approx. 1 m spacing), which are guided into the riser pipe at the bottom of the well and are carrying water to the spout. At the pump stand, the rope is moved by a rubber lined pulley, mostly made of cuttings from worn car tires. The pulley is operated with a crank handle in a steady speed, so that sufficient water is flowing from the spout.
Because of the required clearance between the washers and the riser pipe, the movement of the rope needs a certain speed, so that the velocity of the drawn water is continuous.
As soon as the operation stops, the water in the rising main will drain slowly.
This type of pump is usually placed on a dug-well and it's mostly used as family pump. However, there are different models existing that are suitable for larger communities and also to be installed on boreholes.
The rope and washer pump has the advantage of a simple design and fairly easy maintenance.
Material
Pump stand and crank made of painted steel pipes, cover of galvanized and painted tin plate, drive pulley of rubber and mild steel, pistons of plastic, guide box of concrete, PVC-U and glass, rising main of PVC-U pipes.
The Madagascar Rope Pump is reasonably corrosion resistant.
Local manufacturing
The Rope Pump has an excellent potential for local manufacturing.
Installation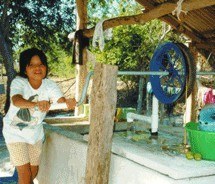 The installation of the Rope Pump is easy. It can be done by trained area mechanics. No lifting tackle and no special tools are needed.
Maintenance
The rope pump has an excellent "Community Management Potential". Torn or broken ropes can be replaced without special tools. A village caretaker is able to perform all maintenance operations required.
Technical data
| | |
| --- | --- |
| Piston nominal dia.: | 1", ¾" or ½", |
| Approx. discharge (75 watt input): | at 10 m head: 1.4 m³/hour, |
| | at 15 m head: 1.1 m³/hour, |
| | at 20 m head: 0.7 m³/hour, |
| Pumping lift: | 0 - 30 m, |
| Population served: | ~ 70 people, |
| Households: | 3 - 10 hh, |
| Water cons.: | 15 - 20 l/per capita, |
| Type of well: | mainly dug wells. |
Remarks
This rope pump is usually installed in dug wells.
Even though it is not limited in pumping lifts, the major application range is up to 15 m. The Rope Pump is not designed for a high daily output, but rather a family or small community pump.
Price (approx): Depending on local conditions,
Distribution: < 1,000 in Madagascar.
More Information
Documentation
BRAND, A. P. (2004) Low-cost pump alternatives for rural communities in Honduras. Meeting demand for access to safe drinking water , Water and Sanitation Program (WSP) , Lima, Peru
ERPF, K. (2006) Installation and Maintenance Manual for Rope Pumps., Skat, Rural Water Supply Network, St Gallen, Switzerland
ERPF, K. (2006) Manufacturing Guidelines for the Production of Rope Pumps in Mozambique. , Skat , Rural Water Supply Network , St Gallen, Switzerland [English], [Portuguese]
ERPF, K. (2005) The Rope Pump Concept. , First Edition , Skat , Rural Water Supply Network , St Gallen, Switzerland [English] [French] [Portuguese]
KEEN, J. (2001) First International Rope Pump Policy Workshop. Proceedings, Skat, Rural Water Supply Network , St Gallen, Switzerland
RANDRIANASOLO, A. and ERPF, K. (2004) Madagascar Rope Pump Specification. First Edition 0 - 2004, Skat, Rural Water Supply Network, St Gallen, Switzerland
RWSN (2006) Maintenance Card for Rope Pump., Skat, Rural Water Supply Network, St Gallen, Switzerland