RWSN Resources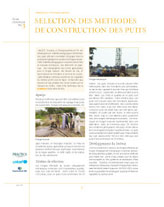 Downloads: 10
---
Author:
Year of Publishing: 2009
Publisher: UNICEF
Institution:
UNICEF, Practica et EntrepriseWorks/VITA ont développé une mallette pédagogique à l'intention des pays africains souhaitant s'engager dans la professionnalisation du secteur du forage manuel. Cette mallette pédagogique comprend des fiches et manuels techniques.

DISCLAIMER: This is a non-RWSN publication and endorsement by RWSN or any of its member organisations should not be inferred.
Downloads: 27
---
Author:
Year of Publishing: 0000
Publisher:
Institution:
A survey conducted by Inter Aide in 2010-2011 in 3 districts of Sierra Leone has highlighted that among 2028 hand-dug wells visited, 45% of them were not delivering water permanently all year long.
Downloads: 20
---
Author:
Year of Publishing: 2014
Publisher:
Institution:
Description of technical solutions to protect Afridev hand pumps from robberies and vandalism developed by Inter Aide and its local partner BASEDA in Malawi.