RWSN Resources
Webinar Series 2014 (Water Point Mapping & Monitoring)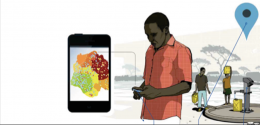 Author

Year of Publishing
2014
Publisher

Institution

---
Description:
Webinar - 30th September 2014 - focus on Malawi - Presentations reflect on water point mapping practices, tools and technologies as well as policies. The webinar explores how the monitoring evolved, how data was, and is collected, analysed and used by a range of stakeholders. The three presentations are:

1) Steve Sugden, Water for People - What we did in Salima District in 2002
2) Thanasius Sitolo, Ministry of Agriculture, Irrigation and Water Development – Water Point Mapping in Malawi since 2002
3) Sydney Byrns, Engineers without Borders - NGO support to government-led monitoring in Malawi
---
Bibliographical Information:
(2014) Webinar Series 2014 (Water Point Mapping & Monitoring).
---
MORE INFORMATION ON OTHER WEBSITES
» Water Point Mapping, Failure and the Future - Webinar Recording - 18th November 2014
» National monitoring of Rural Water Supplies - Webinar Recording - 28th October 2014
» District Monitoring of Rural Water Supplies - Webinar Recording - 14th October 2014
» A Decade of Water Point Mapping - Webinar Recording - 30th September 2014
---
DOWNLOADS (275)
Lessons from national water point mapping in Mozambique - Erik Harvey, WaterAid - Presentation on 18th November 2014pdf • Size: 3.43 MB
Water Point Mapping in Tanzania: a reality check - Ben Taylor, Twaweza - Presentation on 18th November 2014pdf • Size: 1.41 MB
From Rights to Results for Rural Water Services, Evidence from Kenya - Rob Hope, Oxford University - Presentation on 18th November 2014pdf • Size: 4.08 MB
Water point data sharing with WASH DataPoint - Brian Banks, GETF - Presentation on 18th November 2014pdf • Size: 1.09 MB
Functionality survey and water sampling, Leendert Vijselaar, Dacaar Afghanistan - Presentation on 28th October 2014pdf • Size: 0.73 MB
Water and sanitation information system for Timor Leste, Keryn Clark, previously AusAID - Presentation on 28th October 2014pdf • Size: 2.45 MB
SIASAR rural water and sanitation information system, Javier Rivera & Eric Estrada, Governments of Honduras & Nicaragua - Presentation on 28th October 2014pdf • Size: 2.18 MB
Water Point Mapping Experiences in Ethiopia, Gossa Wolde, WaterAid Ethiopia - Presentation on 14th October 2014pdf • Size: 0.75 MB
District Approach in Bolivia, Keri Kugler and Isaias Chiri, Water for People - Presentation on 14th October 2014pdf • Size: 1.55 MB
Service Monitoring in Ghana, Jeremiah Atengdem, IRC Ghana - Presentation on 14th October 2014pdf • Size: 1.46 MB
First steps in Malawi, Steve Sugden, Water for People - Presentation on 30th September 2014pdf • Size: 1.96 MB
Water Point Mapping work in Malawi since the early 2000's, Thanasius Sitolo, Ministry of Agriculture, Irrigation and Water Development, Malawi - Presentation on 30th September 2014pdf • Size: 0.5 MB
Malawi's National WASH M&E System: An example of NGO support to government-led monitoring, Sydney Byrns, Engineers without Borders - Presentation on 30th September 2014pdf • Size: 1.84 MB
---
« back to the last page