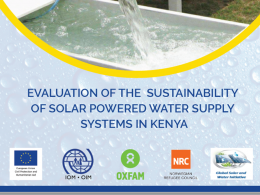 Author
EED Advisory Ltd.
Year of Publishing
2018
Publisher
EED Advisory Ltd.
Institution
EU, IOM, Oxfam, NFC, GSWI
Evaluation of the sustainability of solar powered water supply systems in Kenya
Description:
The Global Solar-and-Water Initiative (GSWI), funded by the European Civil Protection and Humanitarian Aid Operations (ECHO) and led by IOM, Oxfam and NRC, seeks to promote, advocate for and mainstream the use of solar energy in WASH projects for refugee and IDP camps as well as local communities.
The evaluation was to look at existing solar schemes where different designs, approaches and uses of energy are being applied and document best practices, shortcomings, improvements and recommend models for sustainability of solar water schemes in refugee camps and communities.

DISCLAIMER: This is a non-RWSN publication and endorsement by RWSN or any of its member organisations should not be inferred.
---
Bibliographical Information:
EED Advisory Ltd. (2018) Evaluation of the sustainability of solar powered water supply systems in Kenya. , EU, IOM, Oxfam, NFC, GSWI , EED Advisory Ltd. , Nairobi, Kenya
---
DOWNLOADS (139)
Evaluation of the sustainability of solar powered water supply systems in Kenya
pdf • Size: 4.58 MB