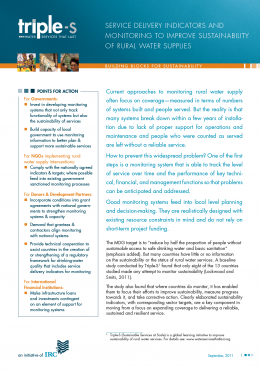 Author
LOCKWOOD, H., LE GOUAIS, A., SCHOUTEN, T., VERDEMATO, T. and P. MORIARTY
Year of Publishing
2011
Publisher
IRC International Water and Sanitation Centre
Institution
Triple-S
Service Delivery Indicators and Monitoring to Improve Sustainability of Rural Water Supplies Briefing Note No. 1
Description:
Current approaches to monitoring rural water supply often focus on coverage—measured in terms of numbers of systems built and people served. But the reality is that many systems break down within a few years of installation due to lack of proper support for operations and maintenance and people who were counted as served are left without a reliable service.

Good monitoring systems feed into local level planning and decision-making. They are realistically designed with existing resource constraints in mind and do not rely on short-term project funding.

DISCLAIMER: This is a non-RWSN publication and endorsement by RWSN or any of its member organisations should not be inferred.
---
Bibliographical Information:
LOCKWOOD, H., LE GOUAIS, A., SCHOUTEN, T., VERDEMATO, T. and P. MORIARTY (2011) Service Delivery Indicators and Monitoring to Improve Sustainability of Rural Water Supplies. Briefing Note No. 1 , September 2011 , Triple-S , IRC International Water and Sanitation Centre , The Hague, Netherlands
---
DOWNLOADS (1)