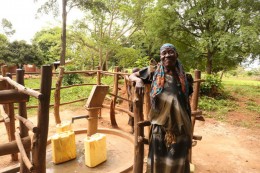 Author
Nicholas, N; Wilbur, J; Nath, P.; Gosling, L. and Naughton, M.
Year of Publishing
2017
Publisher
RWSN
Institution
RWSN
Gender and rural water services – lessons from RWSN members Summary of RWSN E-discussion on how women's engagement in Water User Committees impact on its performance and system functionality (2016) and RWSN Webinars: Making Water Work for Women, Sharing Inspiring Experiences (May 2017)
Description:
Gender relations are critical to nearly every aspect of rural water supply, but rarely addressed in practice by rural water professionals. All water supply programmes affect men and women in different ways, and while practitioners assume their work will benefit women, how do they know whether it will or not, how do they know what impact it will have?

In 2016 RWSN's Mapping and Monitoring Theme members had an impromptu and rich e-discussion on gender equality and WASH. In early 2017, RWSN's Equality, Non Discrimination and Inclusion (ENDI) Theme launched a call to their members for examples of inspiring experiences of 'Making Water Work for Women'. Both discussions have been rich with experiences from across Asia, Africa and Latin America, and reinforcing of each other. We have put together a short brief highlighting the key points from these discussions:

- The nature of female participation within water committees should be discussed in terms of quality as well as quantity. If women's roles do not offer any opportunity to influence committee decisions and outcomes, their participation is largely tokenistic. Qualitative indicators can help to show whether women's participation is tokenistic, or active and meaningful.
- High-level government commitment to minimum quotas for women's participation was seen as a crucial prerequisite to creating the space for the inclusion of women and the ability to demand it.
- Where women were more influential on Water User Committees, it was strongly attributed to the special efforts of implementing organisations who worked on mobilising women and increasing their confidence and awareness about the work involved, and sensitising men equally to create space for women's involvement in the committees, as the example in India shows.
- By working closely with women and men together it is possible to challenge gender norms amongst women and men in rural communities, so that they begin to share unpaid work associated with WASH more equally, as the example in Ethiopia shows.
- Identifying the agents of change (women and men) from the community who are motivated and determined to advocate for water and sanitation can nurture lifelong advocates, as illustrated by the experience from Bangladesh.
- Disaggregating monitoring indices by gender can help to raise gender equality as a priority, and set specific expectations about the participation of women in different aspects of service provision.
- Conflict-sensitive approaches to water and sanitation can help to facilitate peace building by creating a platform for women around a common need, as in the example from India.
---
Bibliographical Information:
Nicholas, N; Wilbur, J; Nath, P.; Gosling, L. and Naughton, M. (2017) Gender and rural water services – lessons from RWSN members. Summary of RWSN E-discussion on how women's engagement in Water User Committees impact on its performance and system functionality (2016) and RWSN Webinars: Making Water Work for Women, Sharing Inspiring Experiences (May 2017) , RWSN , RWSN
---
DOWNLOADS (164)
Gender and rural water services – lessons and experience from RWSN members
pdf • Size: 0.82 MB