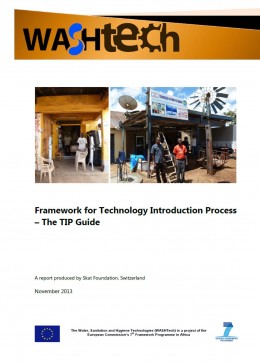 Author
OLSCHEWSKI, A.
Year of Publishing
2013
Publisher
WASHTech Project
Institution
Skat Foundation and WaterAid UK
TIP (STEP 3) Framework for Technology Introduction Process – The TIP Guide TIP Guidelines
Description:
This report outlines the research process that was followed to develop two tools that are useful for the WASH sector: the Technology Applicability Framework (TAF) and the Technology Introduction Process (TIP). The TAF is applied to validate different technology options considered for a given context, and to thus assess possible blockages to their sustainability and scalability. The TAF, therefore, assists the local sector stakeholders to find solutions to overcome the stumbling blocks hindering provision of lasting services. The TIP is a guidance document to be used to steer the multi-stakeholder-coordinated initiation of a specific WASH technology towards a local WASH service that lasts.
---
Bibliographical Information:
OLSCHEWSKI, A. (2013) TIP (STEP 3) Framework for Technology Introduction Process – The TIP Guide. TIP Guidelines , Skat Foundation and WaterAid UK , WASHTech Project , St Gallen, Switzerland
---
DOWNLOADS (501)
WASHTECH TIP Guide
pdf • Size: 1.24 MB