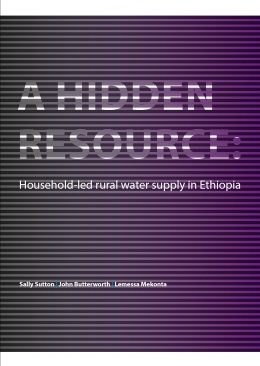 Author
SUTTON, S., BUTTERWORTH, J. and MEKONTA, L.
Year of Publishing
2012
Publisher
IRC International Water and Sanitation Centre
Institution

A Hidden Resource: Household-led rural water supply in Ethiopia
Description:
This report brings together the findings of two complementary research studies on the role of Self Supply in rural water services provision in different regions of Ethiopia. Self Supply involves households taking the lead in their own development, including investment in the construction, upgrading and maintenance of their own water sources, lifting devices and storage facilities. Traditional wells, which are usually family-owned, are the most common type of source and are the focus of this report. Various types of lifting device are used, starting from a rope and bucket. Rope pumps are being promoted as a step ahead, and in some specific areas, diesel or electric pumps are common. Until now, there has been relatively little information available about the performance of family or traditional wells, with water quality studies, for example the Rapid Assessment of Drinking Water Quality, RADWQ (WHO/ UNICEF, 2010), tending to focus on community sources such as handpumps.
---
Bibliographical Information:
SUTTON, S., BUTTERWORTH, J. and MEKONTA, L. (2012) A Hidden Resource:. Household-led rural water supply in Ethiopia , IRC International Water and Sanitation Centre , The Hague, Netherlands
---
DOWNLOADS (851)
A Hidden Resource:
pdf • Size: 1.5 MB