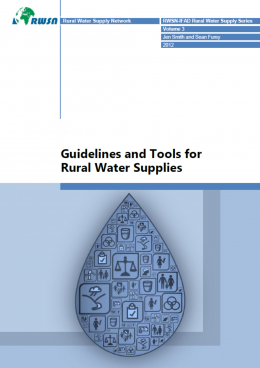 Author
SMITH, J. & FUREY, S.
Year of Publishing
2012
Publisher
RWSN
Institution
Rural Water Supply Network
Guidelines and Tools for Rural Water Supplies RWSN IFAD Rural Water Supply Series: Volume 3
Description:
This document is a directory of 42 sets of guidelines, manuals and toolkits about the delivery of rural water supply services. Each resource has been categorised by whether its primary audience is international, national, organisation or other. Icons and summary table are used to help you find guidelines relevant to your task. Links and references are provided to help you find the original documents quickly and easily.
---
Bibliographical Information:
SMITH, J. & FUREY, S. (2012) Guidelines and Tools for Rural Water Supplies. RWSN IFAD Rural Water Supply Series: Volume 3 , Rural Water Supply Network , RWSN , St Gallen, Switzerland
---
DOWNLOADS (1103)
Guidelines and Tools for Rural Water Supplies
pdf • Size: 0.8 MB