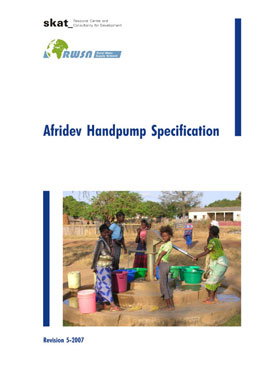 Author
BAUMANN, E. & KEEN, J.
Year of Publishing
2007
Publisher
Rural Water Supply Network
Institution
Skat
Afridev: Handpump Specification (Revision 5-2007)
Description:
This manual provides detailed specifications and design drawings for the AFRIDEV handpump. The AFRIDEV Deep-well handpump is designed to lift water from depths of 10m to 45m. The AFRIDEV is suitable for boreholes with casing sizes of nominal 100mm, 115mm, 127mm or 150mm internal diameter (4", 4.5", 5" and 6").

The Specification results from work carried out by the UNDP-World Bank Water and Sanitation Program in partnership with handpump fieldworkers and development organisations in many countries.

Since the issue of the first AFRIDEV Specification in 1989, the AFRIDEV has become the deepwell VLOM handpump of choice in an increasing number of countries in Africa and Asia.
---
Bibliographical Information:
BAUMANN, E. & KEEN, J. (2007) Afridev: Handpump Specification. (Revision 5-2007) , Skat , Rural Water Supply Network , St Gallen, Switzerland
---
DOWNLOADS (2961)
Afridev Handpump Specification
pdf • Size: 68.05 MB