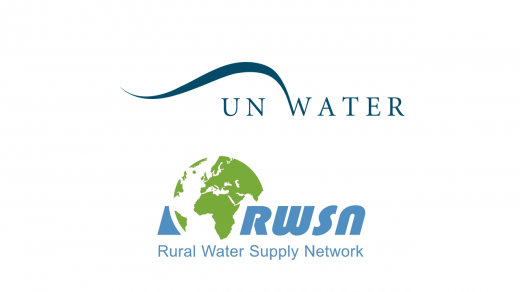 UN-Water-RWSN
© 2020 UN/RWSN • UN/RWSN
We are delighted that RWSN has been accepted as UN-Water Partner at the recent online meeting of the partnership on 30th September. For our network we see this as an important step for the following:

(1) Keep informed on SDG (6) progress and how rural is (or is not) being tackled across the United Nations family of organisations

(2) It provides a pathway for informing UN processes and organisations about rural water issues, for example the annual World Water Development Report, and the corresponding World Water Day & Week in 2022 will focus on groundwater, which is a topic that RWSN has much to contribute. Being a UN-Water partner we can now contribute to that drafting and consultation process that sets the agenda for water sector.

(3) It strengthens our existing relations with RWSN's UN partners, particularly UNICEF, WHO and UNHCR, but also may open up new opportunities for rural water across the UN family that we hadn't previously collaborated with.

Finally, we would like to encourage RWSN members to share examples of rural water supply work through the SDG 6 Action Space as inspiration for other organisations and networks. The official hashtag tagline for sharing SDG 6 actions is Let's get #Goal6 on track!.
Nous sommes ravis que le RWSN ait été accepté comme partenaire de l'ONU-Eau lors de la récente réunion en ligne du partenariat le 30 septembre. Pour notre réseau, il s'agit d'une étape importante pour la suite :

(1) Se tenir informé des progrès du SDG (6) et de la manière dont le rural est (ou n'est pas) abordé dans la famille des organisations des Nations Unies

(2) Il fournit un moyen d'informer les processus et les organisations des Nations unies sur les questions relatives à l'eau en milieu rural, par exemple le rapport annuel sur la mise en valeur des ressources en eau dans le monde, et la Journée et la Semaine mondiales de l'eau correspondantes en 2022 seront axées sur les eaux souterraines, un sujet auquel le RWSN a beaucoup à apporter. En tant que partenaire de l'ONU-Eau, nous pouvons désormais contribuer à ce processus de rédaction et de consultation qui définit l'agenda du secteur de l'eau.

(3) Cela renforce nos relations existantes avec les partenaires du RWSN au sein des Nations unies, en particulier l'UNICEF, l'OMS et le HCR, mais peut également ouvrir de nouvelles opportunités pour l'eau en milieu rural au sein de la famille des Nations unies, avec lesquelles nous n'avions pas collaboré auparavant.

Enfin, nous aimerions encourager les membres du RWSN à partager des exemples de travaux d'approvisionnement en eau en milieu rural par le biais de l'espace d'action SDG 6, afin d'inspirer d'autres organisations et réseaux. Le slogan officiel du hashtag pour le partage des actions du SDG 6 est Let's get #Goal6 on track !

Traduit avec www.DeepL.com/Translator (version gratuite)
---
More Information