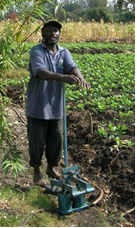 A pump for small scale irrigation and limited use for drinking water.
The Money Maker pump is a further development of the treadle pump also intended as a foot operated pump for small scale irrigation. The Pump sucks the water to the cylinder, then pressurizes it, sending it through a crude sprinkler over the crop. It is easy to repair and maintain The stepping movement of the operator is ergonomically favourable and makes it easy to pump for prolonged periods, thus well suited for irrigation. Typically, Money Makers Treadle placed near a river or pond and a suction hose reaches into the source. The pump installation is not fixed and the pump can be moved around. The pump is not intended for drinking water use as it takes the unprotected water from ponds or rivers.
Materials used
Pump cylinders: (or junction box): Pump Manifold: fabricated from 2.5mm steel sheet; Non-return Valves: two pairs of non-return valves, one on the inlet side of the pump and another on the outlet. The valve type is flapper type, made of circular rubber; Piston Assembly: Piston-mild steel with plastic seal (cup Seal); The piston assembly constitutes the piston rod made of 25mm x 6mm and 5.5mm thick rubber seals (cups); Treadles: are made of box section steel.
Installation and Maintenance
The installation of the Money Maker pump is easy and does not need any lifting equipment or special tools. This pump has an excellent potential for maintenance by the users. All repairs can be done without the use of tools.
Manufacturing
Industrial production: large scale production in local or foreign industrial units. The cast iron design required foundry equipment and skills.
Technical details
| | |
| --- | --- |
| Pumping depth (Lift): | max 9 m |
| Cylinder dia: | 121mm |
| Stroke: | Variable about 120 mm |
| Yield: (75 watt input, at 5 m head) | ~ 3 m³/hour |
| Population/Area served: | 0.1 hectare |
| Type of well: | River or pond |
Costs
Approx USD 200 No tube-well cost for installations in rivers and ponds
Numbers
About 70,000 Money Makers were sold in Kenya, Tanzania, Zambia
Further Information
DISCLAIMER: This is a non-RWSN handpump design and endorsement by RWSN or any of its member organisations should not be inferred.