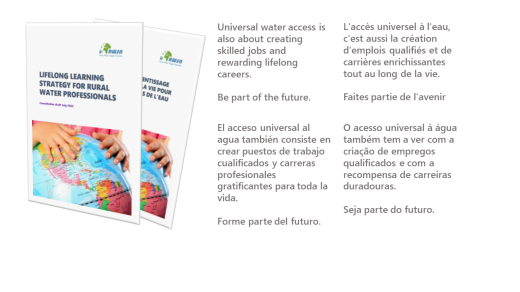 LLS Consultation
© 0000 RWSN • RWSN
Project starts: 2022
Project finished: 2030
Collaborators & Partners: RWSN
Funder: Open to new partnerships
---
Summary
RWSN is a global network of rural water supply professionals and organisations committed to improving their knowledge, competence and professionalism, to fulfil RWSN's vision of sustainable rural water services for all. Both individuals and organisations participate in the network.
This strategy presents ways in which the network can continue to create and grow value in the coming 5-10 years:
1. Connect those seeking specialist training and mentoring with those who can provide that support.
2. Build partnerships to identify and fill thematic gaps in capacity development of rural water supply professionals and organisations, at global and regional levels.
3. Act as a broker to support scaling-up of ideas and organisations through training, mentoring, coaching and match-making between potential partners.
4. Providing value for money and easy-to-use, transparent procurement options so that RWSN achieves full cost recovery for providing these services.

We are inviting feedback on our draft Lifelong Learning Strategy by 30 August 2022

///
Le RWSN est un réseau mondial de professionnels et d'organisations du secteur de l'approvisionnement en eau en milieu rural qui s'engagent à améliorer leurs connaissances, leurs compétences et leur professionnalisme, afin de concrétiser la vision du RWSN de services d'eau durables pour tous en milieu rural. Tant les individus que les organisations participent au réseau.
Cette stratégie présente les moyens par lesquels le réseau peut continuer à créer et à accroître sa valeur dans les 5 à 10 prochaines années :
1. Connecter ceux qui recherchent une formation spécialisée et un mentorat avec ceux qui peuvent fournir ce soutien.
2. Construire des partenariats pour identifier et combler les lacunes thématiques dans le développement des capacités des professionnels et des organisations de l'approvisionnement en eau en milieu rural, aux niveaux mondial et régional.
3. Agir en tant que courtier pour soutenir la mise à l'échelle des idées et des organisations par le biais de la formation, du mentorat, du coaching et de la mise en relation entre partenaires potentiels.
4. Fournir un bon rapport qualité-prix et des options d'approvisionnement faciles à utiliser et transparentes, afin que le RWSN parvienne à un recouvrement total des coûts pour la fourniture de ces services.

Nous vous invitons à nous faire part de vos commentaires sur notre projet de stratégie d'apprentissage tout au long de la vie d'ici le 30 août 2022.
---
Project Description
La RWSN es una red mundial de profesionales y organizaciones de abastecimiento de agua en zonas rurales comprometidos con la mejora de sus conocimientos, competencia y profesionalidad, para cumplir la visión de la RWSN de unos servicios de agua rural sostenibles para todos. En la red participan tanto individuos como organizaciones.
Esta estrategia presenta las formas en que la red puede seguir creando y aumentando su valor en los próximos 5-10 años:
1. Conectar a los que buscan formación especializada y tutoría con los que pueden proporcionar ese apoyo.
2. Crear asociaciones para identificar y cubrir las lagunas temáticas en el desarrollo de capacidades de los profesionales y las organizaciones de abastecimiento de agua en zonas rurales, a nivel global y regional.
3. Actuar como intermediario para apoyar la ampliación de ideas y organizaciones a través de la formación, la tutoría, el asesoramiento y el emparejamiento entre socios potenciales.
4. Proporcionar una buena relación calidad-precio y opciones de adquisición fáciles de usar y transparentes, de modo que la RWSN logre una recuperación total de los costes de la prestación de estos servicios.

Invitamos a que nos envíen sus comentarios sobre nuestro proyecto de estrategia de aprendizaje permanente antes del 30 de agosto de 2022
////
A RWSN é uma rede global de profissionais e organizações de abastecimento de água rural empenhados em melhorar seus conhecimentos, competência e profissionalismo, para cumprir a visão da RWSN de serviços de água rural sustentáveis para todos. Tanto indivíduos quanto organizações participam da rede.
Essa estratégia apresenta maneiras pelas quais a rede pode continuar a criar e aumentar o valor nos próximos 5 a 10 anos:
1. Conectar aqueles que procuram treinamento especializado e orientação com aqueles que podem fornecer esse apoio.
2. Construir parcerias para identificar e preencher lacunas temáticas no desenvolvimento da capacidade dos profissionais e organizações de abastecimento de água rural, em nível global e regional.
3. Atuar como corretor para apoiar a expansão de idéias e organizações por meio de treinamento, tutoria, coaching e match-making entre parceiros potenciais.
4. Proporcionar uma boa relação custo-benefício e opções de aquisição transparentes e fáceis de usar para que a RWSN alcance a recuperação total dos custos para o fornecimento desses serviços.

Estamos convidando o feedback sobre nossa proposta de estratégia de aprendizagem ao longo da vida até 30 de agosto de 2022.
---
More Information
» Download Document / Télécharger le document / Descargue el documento / Descarregar documento