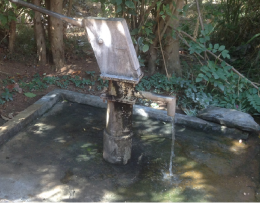 A working, but not very hygienic, India Mark II in rural Sri Lanka
© 2015 S.Furey • S. Furey
Project starts: 2021
Project finished: 2022
Collaborators & Partners: Ask for Water GmbH, Skat Foundation
Funder: Waterloo Foundation
---
Summary
The Challenge

1) Premature corrosion and failure of water supply hardware, such as handpumps, is widespread across Sub-Saharan Africa, but evidence is limited and largely anecdotal.
2) For tens of millions of Africans who depend on handpumps for their daily water needs, these failures threaten their health and livelihoods.
3) Despite millions of dollars wasted on poor quality hardware, there seems to be a lack of interest among key international donors and other development partners that fund rural water supply services to engage in the problem of variable handpump quality.

This new RWSN initiative by Skat Foundation and Ask for Water GmbH strives to find ways in which key stakeholders can ensure that handpump technologies and spare parts that are installed for drinking water in sub-Saharan Africa are consistently of high quality and can last
---
Project Description
1) Documentation: the scale and extent of the problem of handpump corrosion and poor-quality components in sub-Saharan Africa is documented.
2) Understanding: as a single country cases study, the handpump supply chains for Zambia1 are mapped out, with their strengths and weaknesses analysed.
3) Awareness: awareness of handpump corrosion, poor-quality components and related supply chain methods is raised internationally.
4) Action Catalysed: ongoing engagement of international organisations, national governments, research organisations and other stakeholders to catalyse actions to tackle the problem.