RWSN Ressources
Total des résultats: 602 • Page 1 sur 61
Trier les résultats par: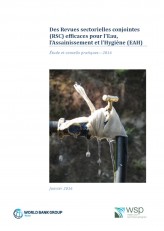 Downloads:
---
Author: DANERT, K, FUREY, S, MECHTA, M and GUPTA, S
Year of Publishing: 2017
Publisher: World Bank
Institution: World Bank
Cette étude est le premier travail consolidé et référencé portant sur les Revues sectorielles conjointes (RSC) en matière d'eau ou d'eau d'assainissement et d'hygiène (EAH) sur plusieurs pays. Le rapport d'étude et la note d'apprentissage associée, ainsi que l'affiche, analysent les processus de RSC et proposent des conseils pratiques pour leur mise en oeuvre et leur perfectionnement. L'étude définit une méthodologie basée sur des listes visuelles de vérification pour faire le point sur les processus des RSC dans l'EAH. Elle pourrait également constituer une base pour poursuivre plus avant les comparaisons des processus de RSC entre différents pays.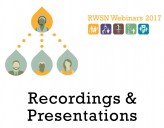 New 2017 RWSN Webinar series (18th April - 13th June 2017)
Nouvelle série de webinaires RWSN 2017 (18 avril - 13 juin 2017) / Nueva serie de webinarios RWSN (18 de abril - 13 de junio 2017)
Downloads:
---
Author:
Year of Publishing: 2017
Publisher: RWSN
Institution: RWSN
ENG: RWSN is delighted to announce the first of the 2017 series of webinars (on-line seminars) on rural water supply, running every Tuesday from April 18th, 2017 until June 13th, 2017. This series includes 9 weekly sessions on topics, which were presented and debated during the 2016 RWSN Forum in Abidjan, and related to the RWSN themes.

FR: Le RWSN a le plaisir de vous annoncer une nouvelle série de webinaires en 2017 (les séminaires en ligne) qui auront lieu les mardis, du 18 avril 2017 au 13 juin 2017. Cette série comprend 9 sessions hebdomadaires sur des sujets ayant été présentés et débattus lors du RWSN Forum à Abidjan en 2016, et correspondant aux thèmes RWSN.

ES: Desde el secretariado del RWSN tenemos el gusto de anunciar la nueva serie de webinars (seminarios en linea), la cual se efectuará entre el 28 de abril y el 13 de junio del 2017. Esta serie comprende 9 sesiones (una sesión por semana) respecto a los temas discutidos en el Foro RWSN en Abidjan en 2016, los cuales corresponden con los ejes temáticos del RWSN.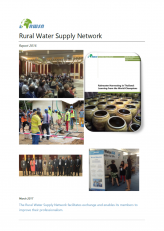 Rural Water Supply Network - Annual Report 2016
Enabling practitioners, professionals and ultimately water users to make informed decisions on how to improve and maintain access to safe water in rural areas.
Downloads:
---
Author: RWSN
Year of Publishing: 2017
Publisher: Skat Foundtion
Institution: Rural Water Supply Network
The focus for the Rural Water Supply Network (RWSN) in 2016 was preparing for, and managing the 7th RWSN Forum in Abidjan, Côte d'Ivoire, from 29th November to 2nd December with the title "Water for Everyone". This was the first RWSN Forum to take place in a francophone country in the 25 years since the creation of the network.

Throughout 2016 specific in-country activities included a short-course on Procurement, Contract Management and Costing and Pricing in Zambia and a participative analysis of Manual Drilling in the Democratic Republic of Congo.
Workshops organized by the World Bank in Bangkok and Lima on sustainable services drew together government agencies in both regions. Key lessons from both events fed into the RWSN Forum under the RWSN Theme "Sustainable Services".

RWSN continued to work on strengthening the links between research and practice on groundwater by disseminating the outputs from UPGro (Unlocking the Potential of Groundwater for the Poor) research to the RWSN membership as well as fostering direct linkages between groundwater experts and water supply professionals.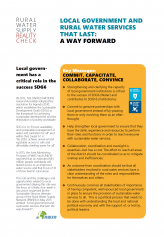 Downloads:
---
Author: RWSN
Year of Publishing: 2017
Publisher: Skat Foundation
Institution:
This paper is a synthesis of the major themes discussed during the local government e-discussion held during May 2015, which included 75 contributions from 58 people presenting experiences in English, French and Spanish and cases from 43 different countries from across the globe. Each week focused on a specific theme. Dedicated week facilitators introduced the theme in the beginning of the week, led the discussion during the week and summarised the main discussion points at the end of the week. The paper highlights the discussed role local government can and does play in ensuring sustainable water service provision, the challenges that local government is facing in fulfilling these roles and responsibilities, and the opportunities for overcoming these challenges.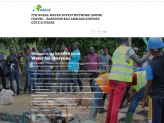 Downloads:
---
Author: FUREY, S. G. (editor)
Year of Publishing: 2017
Publisher: Skat Foundation
Institution: RWSN
The 2016 Rural Water Supply Network Forum in Abidjan was the first global gathering to consider the practical challenge of how everyone worldwide can get access to safe, affordable water by 2030. It was also the first RWSN Forum to take place in a francophone country, in the 25 years since the creation of the network.
The Forum gathered 467 rural water sector practitioners from over 300 organisations from 64 countries in Africa, Asia, Americas, and Europe, in a bilingual (English/French) four day event. It was opened by the Prime Minister of Côte d'Ivoire, Mr Daniel Kaplan Duncan. We were joined by HE State Minster James Dengchol Tot, Minister of Water, Irrigation and Electricity of Ethiopia, as well as a delegation from AMCOW.

This Forum proceedings compiles all peer-reviewed materials. Separate downloads and links to the films can be found at: https://rwsn7.net/content/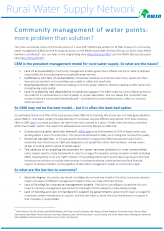 Downloads:
---
Author: Naughton, M.
Year of Publishing: 2017
Publisher: Skat
Institution: RWSN
This note summarizes some of the broad points of a June 2017 RWSN blog written by Dr Ellie Chowns on communitybased management (CBM) and the ensuing discussion on the RWSN Sustainable Services DGroup, to which many RWSN members contributed .

CBM is the prevalent management model for rural water supply. So what are the issues?
• Lack of accountability: Community management enables government officials and donors alike to abdicate responsibility for ensuring long-term sustainable water services.
• Inefficiency and lack of sustainability: Preventive maintenance is almost never done, repairs are often slow and sub-standard, and committees are unable to collect and save funds.
• Disempowerment: CBM reinforces existing community power relations, thereby breeding conflict rather than strengthening social capital.
• Lack of scalability and dependence on external support: The CBM model has never reliably worked at any scale but is continued due to a lack of viable, or proven alternative. One can always find 'successful' case studies of where it has worked fantastically well – but these tend to be isolated systems, reliant on constant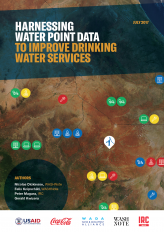 Downloads:
---
Author: Dickinson, N., Knipschild, F., Magara, P. & G. Kwizera
Year of Publishing: 2017
Publisher: WASHNote/IRC Uganda
Institution: Water and Development Alliance (WADA)
This document introduces what water point data are, why they are collected, and how they are used in "The Value of Water Point Data". The chapter "A Deep Dive: The Case of Uganda" illustrates the use and progressive improvement of water point data in a country that is actively updating and publishing its National Water Atlas.

"From Water Point Data to Improved Water Services" provides an overview of how water point data can be used more effectively to measure services and water resources, strengthen the enabling environment, and improve coordination. It also reviews some innovative approaches under development, such as the remote monitoring of water points. Finally, "Recommendations" provides actionable guidance to a) national governments, b) local governments, c) NGOs and implementers, and d) donors and investors.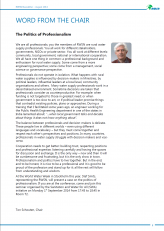 Downloads:
---
Author: RWSN
Year of Publishing: 2016
Publisher: Rural Water Supply Network
Institution:
RWSN members receive a quarterly email newsletter,which is available in English and French.

PDF versions are posted here, Since 2012, email versions are posted via dgroups (http://dgroups.org/rwsn)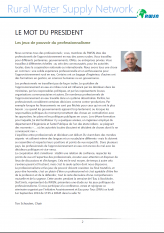 Downloads:
---
Author: RWSN
Year of Publishing: 2016
Publisher: Rural Water Supply Network
Institution:
Les membres de RWSN recevoir un bulletin électronique trimestriel, qui est disponible en anglais et en français.

Les versions PDF sont affichés ici, depuis 2012, les versions électroniques sont transmis via dgroups (http://dgroups.org/rwsn)

S'IL VOUS PLAÎT NOTE QUE AVANT JUILLET 2012 PLUSIEURS DES LIENS CONSULTER LE SITE WEB ET VIEUX SO ne fonctionne plus à partir de 2013. Cependant, tous les documents ont été transférés sur le nouveau site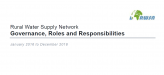 Downloads:
---
Author: Rural Water Supply Network
Year of Publishing: 2016
Publisher: RWSN
Institution: RWSN
Founded as the Handpump Technology Network (HTN) in 1992, by 2015, RWSN has grown from a small group of technical experts focusing on handpumps to a vibrant network of over 8,000 individuals working for over 1,300 organisations 148 countries. RWSN now covers a wide range of issues. This document sets out RWSN's governance, roles and responsibilities, and was approved by the RWSN Executive Steering Committee in December 2015. This document covers the period January 2016 to December 2018. However, given the evolving nature of the network, earlier modifications, to be approved by the Executive Steering Committee, may be required.
Pages: 1 2 3 4 5 6 7 8 9 10 11 12 13 14 15 16 17 18 19 20 21 22 23 24 25 26 27 28 29 30 31 32 33 34 35 36 37 38 39 40 41 42 43 44 45 46 47 48 49 50 51 52 53 54 55 56 57 58 59 60 61