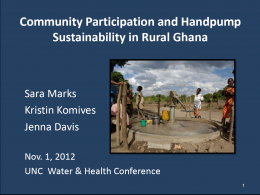 Author
MARKS, S., KOMIVES, K. AND DAVIS, J.
Year of Publishing
2012
Publisher

Institution
Stanford University
Community Participation and Handpump Sustainability in Rural Ghana Presentation
Description:
Why does sustainability matter? Study site: Ghana
1. Which forms of community participation are associated with handpump sustainability? Depth, not breadth, of participation; The type of decision matters;
2. What else explains variation in sustainability? Post-construction support of borehole users; Trust; Alternative water sources

DISCLAIMER: This is a non-RWSN publication and endorsement by RWSN or any of its member organisations should not be inferred.
---
Bibliographical Information:
MARKS, S., KOMIVES, K. AND DAVIS, J. (2012) Community Participation and Handpump Sustainability in Rural Ghana. Presentation , Stanford University , UNC Water & Health Conference 2012
---
DOWNLOADS (99)
Community Participation and Handpump Sustainability in Rural Ghana
pdf • Size: 1.14 MB