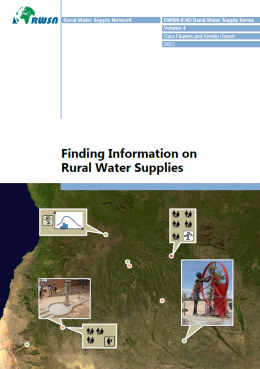 Author
FLOWERS, C. & DANERT, K.
Year of Publishing
2012
Publisher
RWSN
Institution
Rural Water Supply Network
Finding Information on Rural Water Supplies RWSN-IFAD Rural Water Supply Series: Volume 4
Description:
This publication helps you to navigate the information out there on rural water supplies. It is for stakeholders who are new to rural water supplies, as well as others who are already knowledgeable of the topic, but would like a comprehensive overview of current information sources.
It pulls together the main sources of information regarding rural water supplies coverage (and lack of coverage), implementation agencies and finance that exist in 2012. We also provide you with a starting point to find out more about water resources for rural water supplies.
---
Bibliographical Information:
FLOWERS, C. & DANERT, K. (2012) Finding Information on Rural Water Supplies. RWSN-IFAD Rural Water Supply Series: Volume 4 , Rural Water Supply Network , RWSN , St Gallen, Switzerland
---
DOWNLOADS (259)
Finding Information on Rural Water Supplies
pdf • Size: 1.55 MB