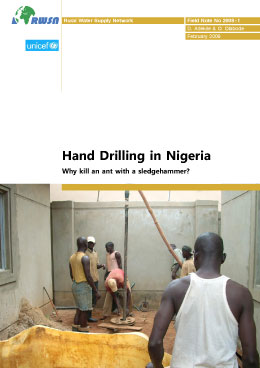 Author
ADEKILE, D. & OLABODE, O.
Year of Publishing
2009
Publisher
RWSN/UNICEF
Institution

Hand Drilling in Nigeria: Why kill an ant with a sledgehammer? RWSN Field Note 2009-1
Description:
This field note gives individual householders, farmers, communities,
institutions and policy-makers information on hand drilling in Nigeria. It provides a basic understanding of affordable drilling technologies for Nigeria and beyond. Costs, limitations and risks associated with hand drilled wells are also described in order to assist informed decision-making at all levels.
With simple equipment which is locally available, hand drilling has the potential to provide low cost water supplies. However it only works where the formation is not too hard and the depth to the aquifer is not very great. The cost of the hand drilled boreholes in Lagos, Kano, Niger and Rivers States is about a third of machine drilled holes.
---
Bibliographical Information:
ADEKILE, D. & OLABODE, O. (2009) Hand Drilling in Nigeria: Why kill an ant with a sledgehammer?. RWSN Field Note 2009-1 , RWSN/UNICEF , St Gallen, Switzerland
---
DOWNLOADS (749)
Hand Drilling in Nigeria
pdf • Size: 0.93 MB