We are delighted that the Water Institute at the University of North Carolina (UNC), in association with RWSN, UPGro and REACH, will be hosting the following webinar (En anglais seulement, désolé / Solo en inglés, disculpas):
---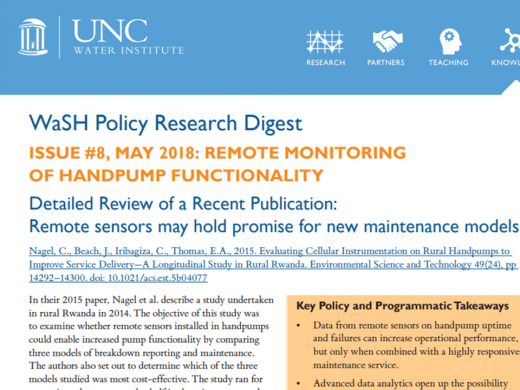 UNC WaSH policy brief
© 2018 UNC • UNC
In May 2018 the Water Institute's WaSH Policy Research Digest dealt with the issue of remote monitoring of handpump functionality. In a review of a recent paper and an accompanying literature review, the authors of the Digest pulled out the following policy take-aways:
• Data from remote sensors on handpump uptime and failures can increase operational performance, but only when combined with a highly responsive maintenance service.
• Advanced data analytics open up the possibility of predicting faults and undertaking pre-emptive repairs, potentially reducing downtime to zero, but this must be weighed against the cost of sensors.
• Data from remote sensors could contribute to regulatory and contractual oversight, supporting the creation of rural water utilities and effective performance contracts.
A live-streamed panel discussion will be held to discuss these findings. The panel will be moderated by Clarissa Brocklehurst of the Water Institute at UNC, with opening remarks by Sean Furey of the Rural Water Supply Network.
Panellists:
• Patrick Thomson, Researcher, School of Geography and the Environment, University of Oxford
• Mike Muller, Adjunct Professor, Wits School of Governance, University of the Witwatersrand, South Africa
• Jacob Katuva, Director of FundiFix, Kenya
• Heloise Greeff, PhD student, University of Oxford
Join us on Monday, July 2nd from 9:00 to 10:00 EST/ 14:00 to 15:00 GMT.
---
More Information