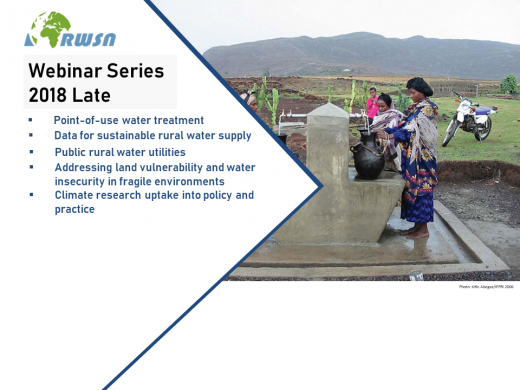 RWSN webinars 2018L-2
© 2018 Kifle Abegaz/IFPRI 2006 • Kifle Abegaz/IFPRI 2006
Project starts: 2018
Project finished: 2018
Collaborators & Partners: In-kind support: UNICEF, WaterAid, Water Mission, World Bank, Simavi, Skat, IRC
Funder: Financial Support: Swiss Agency for Development & Cooperation; REACH: improving water security for the poor
---
Summary
Follow the link below to sign up for any or all of the weekly RWSN webinars below

[9 Oct] Taking stock of solar pumping for domestic water supply – O&M in five countries

[16 Oct] Mapping social inclusive approaches in WASH

[23 Oct] Reaching the poor through market-based interventions: Point-of-use water treatment

** no webinar on 30 October due to UNC Water & Health Conference and Africa Water Week **

[6 Nov] Data for Sustainable Rural Water Supply - Lessons from Asset monitoring & management

[13 Nov] Public Utility Service Delivery in Rural Areas: Opportunities and Challenges

[20 Nov] Addressing land vulnerability and water insecurity in fragile environments: Perspectives from Ethiopia and Kenya (REACH Programme): Starts

[29 Nov] Climate research uptake into policy and practice: Exploring challenges and opportunities with scientists and practitioners (REACH Programme) [Starts: 10:30 Central European Time, 12:30 Ethiopian Time]

Further details on speakers will provided to RWSN members registered on Dgroups (below)

Start time for all webinars - apart from the last REACH webinars are:
14:30 Central Europe
08:30 New York
12:30 Dakar (13:30 in November)
15: 30 Nairobi (16:30 in November)
18:00 New Dehli (19:00 in November)
19:30 Jakarta (20:30 in November)
---
Project Description
Very sadly, we are not able to support French or Spanish webinars in this series, but they will be back again in 2019. Thank you for your understanding and patience.

Nous sommes vraiment désolés de ne pas pouvoir organiser de webinaires en français dans cette série. Cependant, nous reviendrons aux webinaires français en 2019. Nous vous remercions beaucoup pour votre patience et votre compréhension.

Lamentamos mucho no poder realizar seminarios web en español en esta serie. Sin embargo, volveremos a los webinars en español en 2019. Muchas gracias por su paciencia y comprensión.
---
Perspectives
Would be interested in sponsoring a RWSN webinar or webinar series? Contact the Secretariat for details.
---
More Information