RWSN Resources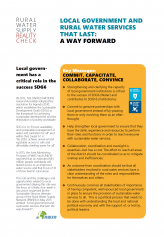 Downloads: 152
---
Author: RWSN
Year of Publishing: 2017
Publisher: Skat Foundation
Institution:
This paper is a synthesis of the major themes discussed during the local government e-discussion held during May 2015, which included 75 contributions from 58 people presenting experiences in English, French and Spanish and cases from 43 different countries from across the globe. Each week focused on a specific theme. Dedicated week facilitators introduced the theme in the beginning of the week, led the discussion during the week and summarised the main discussion points at the end of the week. The paper highlights the discussed role local government can and does play in ensuring sustainable water service provision, the challenges that local government is facing in fulfilling these roles and responsibilities, and the opportunities for overcoming these challenges.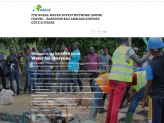 Downloads: 61
---
Author: FUREY, S. G. (editor)
Year of Publishing: 2017
Publisher: Skat Foundation
Institution: RWSN
The 2016 Rural Water Supply Network Forum in Abidjan was the first global gathering to consider the practical challenge of how everyone worldwide can get access to safe, affordable water by 2030. It was also the first RWSN Forum to take place in a francophone country, in the 25 years since the creation of the network.
The Forum gathered 467 rural water sector practitioners from over 300 organisations from 64 countries in Africa, Asia, Americas, and Europe, in a bilingual (English/French) four day event. It was opened by the Prime Minister of Côte d'Ivoire, Mr Daniel Kaplan Duncan. We were joined by HE State Minster James Dengchol Tot, Minister of Water, Irrigation and Electricity of Ethiopia, as well as a delegation from AMCOW.

This Forum proceedings compiles all peer-reviewed materials. Separate downloads and links to the films can be found at: https://rwsn7.net/content/
Downloads: 317
---
Author: Matthias Saladin
Year of Publishing: 2016
Publisher: RWSN
Institution: RWSN
This field note provides an overview and analysis of the historic developments of promoting Domestic Rainwater Harvesting (DRWH) in Thailand between 1980 and 2015. Based on literature reviews and interviews with stakeholders a series of factors were identified which made the promotion of DRWH in Thailand an exceptionally successful example of diffusion of innovations. Among the key factors identified were policies, market structure, pre-existing habits, affordability, supply chain and climate. No single factor was decisive but several of them occurring simultaneously made it possible for an enabling environment to form and make the initiative flourish even after government funding ran out (most of the Thai Jars, which are most commonly used for rainwater storage, were actually delivered through the private sector and paid by the consumers).
In spite of its large-scale success, the Thai Jar Experience is not a blueprint for replication elsewhere but points out to the importance of cultural and economic aspects, as well as to an enabling environment in general.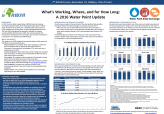 Downloads: 73
---
Author: Banks, B. & S. G. Furey
Year of Publishing: 2016
Publisher: RWSN
Institution: GWC/Skat
• An average of 78% of water points are functional across the 11 countries analyzed.

• The high failure rates early after installation are troubling: almost 15% after one year and 25% of water points are non-functional by their fourth year after installation. This indicates widespread problems with poor quality water point installation, due to a range of problems that may include professionalism and skills around contracts, construction and supervision; borehole siting; lack of quality control of hardware; or lack of post-construction monitoring and problem resolution.

• Handpumps are often singled out as technology that fails, but analysis of other water point types show similar functionality levels, and that tens of thousands of handpumps are providing a service

This poster was peer-reviewed and presented at the 7th RWSN Forum in Abidjan, Cote'Ivoire 2016.

It replaces "Handpump Data 2009 Selected Countries in Sub-Saharan Africa" (2009)
Pages: 1