RWSN Resources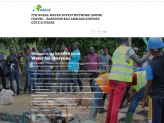 Downloads: 57
---
Author: FUREY, S. G. (editor)
Year of Publishing: 2017
Publisher: Skat Foundation
Institution: RWSN
The 2016 Rural Water Supply Network Forum in Abidjan was the first global gathering to consider the practical challenge of how everyone worldwide can get access to safe, affordable water by 2030. It was also the first RWSN Forum to take place in a francophone country, in the 25 years since the creation of the network.
The Forum gathered 467 rural water sector practitioners from over 300 organisations from 64 countries in Africa, Asia, Americas, and Europe, in a bilingual (English/French) four day event. It was opened by the Prime Minister of Côte d'Ivoire, Mr Daniel Kaplan Duncan. We were joined by HE State Minster James Dengchol Tot, Minister of Water, Irrigation and Electricity of Ethiopia, as well as a delegation from AMCOW.

This Forum proceedings compiles all peer-reviewed materials. Separate downloads and links to the films can be found at: https://rwsn7.net/content/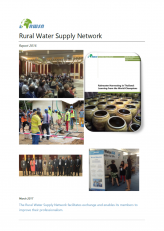 Rural Water Supply Network - Annual Report 2016
Enabling practitioners, professionals and ultimately water users to make informed decisions on how to improve and maintain access to safe water in rural areas.
Downloads: 134
---
Author: RWSN
Year of Publishing: 2017
Publisher: Skat Foundtion
Institution: Rural Water Supply Network
The focus for the Rural Water Supply Network (RWSN) in 2016 was preparing for, and managing the 7th RWSN Forum in Abidjan, Côte d'Ivoire, from 29th November to 2nd December with the title "Water for Everyone". This was the first RWSN Forum to take place in a francophone country in the 25 years since the creation of the network.

Throughout 2016 specific in-country activities included a short-course on Procurement, Contract Management and Costing and Pricing in Zambia and a participative analysis of Manual Drilling in the Democratic Republic of Congo.
Workshops organized by the World Bank in Bangkok and Lima on sustainable services drew together government agencies in both regions. Key lessons from both events fed into the RWSN Forum under the RWSN Theme "Sustainable Services".

RWSN continued to work on strengthening the links between research and practice on groundwater by disseminating the outputs from UPGro (Unlocking the Potential of Groundwater for the Poor) research to the RWSN membership as well as fostering direct linkages between groundwater experts and water supply professionals.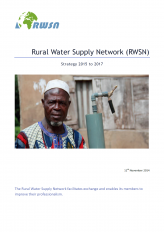 Downloads: 402
---
Author: RWSN
Year of Publishing: 2014
Publisher:
Institution:
This Strategy sets the direction of the Rural Water Supply Network (RWSN) for the next three years. It explains what we are trying to achieve, how, why and who. The four themes from the previous strategy will continue, with some changes of focus, and "Mapping & Monitoring" becomes a cross-cutting topic.

This is not the definitive final version so may be subject to change over the next few weeks or months.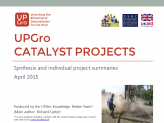 UPGro Catalyst projects
A synthesis and individual project activities and results
Downloads: 81
---
Author: UPGro
Year of Publishing: 2015
Publisher: Skat Foundation
Institution:
This report summarises the contribution to groundwater knowledge of the 15 catalyst projects funded through the UPGro programme between 2013 and 2014, plus the The Africa Groundwater Atlas and Literature Archive.
The projects worked in 12 individual countries (see next page - some countries had more than one project), and three had an Africa-wide focus or component.
At the time of writing two of the 15 projects are still running (Velasquez-Orta and Colombo). The Groundwater Atlas project will also continue as a major archive of African groundwater information.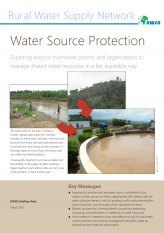 Water Source Protection
Exploring ways to incentivise citizens and organisations to manage shared water resources in a fair, equitable way.
Downloads: 265
---
Author: FUREY S. G.
Year of Publishing: 2015
Publisher: Skat Foundation
Institution: RWSN
What is a Water Source Protection Plan?
A Water Source Protection Plan can be an extension of Water Safety Planning. The plan is an agreed statement between stakeholders that establishes objectives, actions, responsibilities and funding. However, it should go beyond the needs of the water infrastructure and actively look for win-win opportunities:

Key Messages
Important to sensitise land and water users in catchments to the impacts of their actions on others; aligning their self-interests with the wider collective interest is vital for avoiding conflict and protecting the rights of poorest, and the quality of the natural environment.

Bottom-up planning is essential where conventional permitting, monitoring and enforcement is ineffective or under-resourced.

More evidence is needed to show how effective locally-focused water source protection and resource management are when scaled up beyond resource-intensive pilot projects.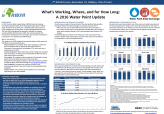 Downloads: 55
---
Author: Banks, B. & S. G. Furey
Year of Publishing: 2016
Publisher: RWSN
Institution: GWC/Skat
• An average of 78% of water points are functional across the 11 countries analyzed.

• The high failure rates early after installation are troubling: almost 15% after one year and 25% of water points are non-functional by their fourth year after installation. This indicates widespread problems with poor quality water point installation, due to a range of problems that may include professionalism and skills around contracts, construction and supervision; borehole siting; lack of quality control of hardware; or lack of post-construction monitoring and problem resolution.

• Handpumps are often singled out as technology that fails, but analysis of other water point types show similar functionality levels, and that tens of thousands of handpumps are providing a service

This poster was peer-reviewed and presented at the 7th RWSN Forum in Abidjan, Cote'Ivoire 2016.

It replaces "Handpump Data 2009 Selected Countries in Sub-Saharan Africa" (2009)
Pages: 1