RWSN Resources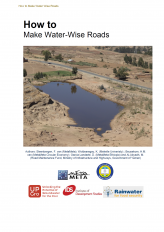 Downloads: 422
---
Author: Steenbergen, F. van, K. Woldearegay, H.M. van Beusekom, D. Garcia Landarte, and M. Al-Abyadh
Year of Publishing: 2014
Publisher: IFAD
Institution: Meta Meta, UPGro, RAIN
This note may serve as guideline on how to combine roads and water harvesting. The investment in roads in almost any country far exceeds that in local water management or watershed protection. Hence roads offer one of the largest opportunities to secure local water supplies, if done wisely and in an integrated way. This document describes both the governance and proceses to combine road development with water management as well as how recharge, retention and reuse (3R) of water can be enhanced through improved designs.

DISCLAIMER: This is a non-RWSN publication and endorsement by RWSN or any of its member organisations should not be inferred.
Downloads: 14
---
Author: Naughton, M.; Furey, S.; Danert, K; Gosling, L.; Greggio, E; Smets, S; Adank, M; Serrano, A; Saladin, M
Year of Publishing: 2017
Publisher:
Institution:
The 2016 Rural Water Supply Network Forum in Abidjan was the first global gathering to consider the practical challenge of how everyone worldwide can get access to safe, affordable water by 2030. It was also the first RWSN Forum to take place in a francophone country, in the 25 years since the creation of the network. The Forum gathered 467 rural water sector practitioners from over 300 organisations from 64 countries in Africa, Asia, Americas, and Europe, in a bilingual (English/French) four day event. It was opened by the Prime Minister of Côte d'Ivoire, Mr Daniel Kaplan Duncan. This report is written to reflect the spirit of sharing knowledge and experience, and provides an overview of the presentations, articles, posters, images and films shared at the event, as well as some of the lessons learnt in organising the event itself. The Forum website (rwsn7.net) remains an archive for all the papers, presentations, posters, films and media coverage received during the Forum, in English and in French.

Le Forum du Rural Water Supply Network 2016 à Abidjan était le premier évènement global à considerer les défis liés à l'approvi-sionnement à une eau potable et abordable pour tous d'ici 2030 d'un point de vue pratique. C'était également le premier à avoir lieu dans un pays francophone depuis la creation du réseau il y a 25 ans.
Le Forum a réuni 467 professionnels du secteur de l'eau rurale de 300 organisations et de 64 pays d'Afrique, Asie, Amérique, et de l' Europe, pendant 4 jours en deux langues (anglais et français). La cérémonie d'ouverture a été présidée par le Premier minister de Côte d'Ivoire, Mr Daniel Kaplan Duncan. Ce rapport est rédigé pour refléter l'esprit de partage de connaissances et d'expérience, et donne un aperçu des présentations, articles, posters, images et films partagés lors de l'évènement, ainsi que les leçons apprises à travers l'organisation de l'évènement. Le site du Forum (rwsn7.net) reste une archive pour tous les articles, présentations, posters, films et couverture médiatique du Forum, en anglais et en français.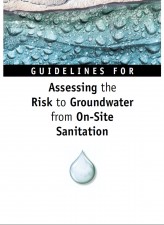 Downloads: 67
---
Author: Lawrence, A., Macdonald, D., Howard, A., Barrett, M., Pedley, S., Ahmed, K., Nalubega, M.
Year of Publishing: 2001
Publisher: British Geological Survey 2001
Institution:
There has been encouraging progress with access to safe drinking water and sanitation in both rural and urban areas since the United Nations Water Decade of the 1980s. However, more than 1 billion people around the world still lack access to safe water supplies and more than 2.4 billion are without adequate sanitation. A substantial majority of these people live in Asia where the lack of sanitation provision is particularly acute. In Africa, over one third of the population still remains without access to safe water and sanitation, and many of these can only be served by groundwater. The need for renewed efforts to improve the situation is recognised in DFID's recently published water strategy paper - ''Addressing the Water Crisis - Healthier and More Productive Lives for Poor People''.

These guidelines are an important contribution to risk assessment and the avoidance of the contamination of groundwater supplies from on-site sanitation. They have been development as part of a project funded by DFID through the water component of the Infrastructure and Urban Development Division's Knowledge and Research Programme.
Pages: 1