RWSN Resources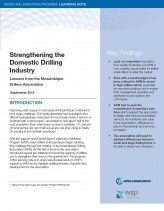 Downloads: 69
---
Author: World Bank
Year of Publishing: 2015
Publisher:
Institution: WSP
Improving water supply in rural areas of Mozambique continues to be a major challenge. The highly dispersed rural population and difficult hydrogeology make even the most basic level of service--a borehole with a hand pump—accessible to only about half of the rural population. Even when basic access is available, 17.1 percent
of hand pumps are out of service at any one time, rising to nearly 30 percent in the Northern provinces.

With the support of the World Bank's Water and Sanitation Program (WSP), water drillers in Mozambique began tackling this challenge through the creation of the Mozambique Drilling Association (APM). As the first of its kind, the association introduced several key initiatives to boost the capacity of drillers and to strengthen their voice to the government. The purpose of this learning note is to share lessons learned from WSP's support to APM and to highlight additional areas of growth and development for the association.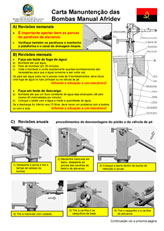 Downloads: 252
---
Author: ERPF, K.
Year of Publishing: 2009
Publisher: Rural Water Supply Network
Institution: Skat
Carta Manuntenção das Bombas Manual Afridev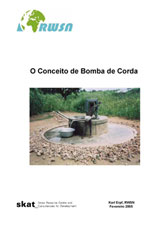 Downloads: 54
---
Author: ERPF, K.
Year of Publishing: 2005
Publisher: Rural Water Supply Network
Institution: Skat
Este documento contém um guia geral para o fabrico de bombas de corda de fabrico local. Este destina-se aos leitores interessados neste tipo de tecnologia de elevação da água e que pretendam introduzir a bomba de corda a nível local. Apenas serão explicitados aspectos genéricos do conceito de Bomba de Corda, bem como indicações relativas à produção da bomba.
Foi efectuado o levantamento e a reunião de informações provenientes de várias fontes como guia para aqueles que pretendem dar início à produção local de Bombas de Corda. As principais fontes foram: Practica Foundation dos Países Baixos, Bombas de Mecate na Nicarágua, TARATRA em Madagáscar, entre outros.
Serão aceites sugestões para melhorias e pedidos de mais informações, e deverão ser enviados para RWSN-SKAT para o seguinte endereço.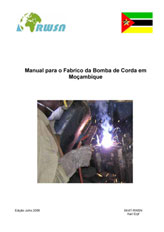 Downloads: 104
---
Author: ERPF, K.
Year of Publishing: 2006
Publisher: Rural Water Supply Network
Institution: Skat
Este Manual foi preparado para dar orientações gerais a todos os fabricantes da Bomba de Corda produzida em Moçambique.

O documento é o resultado de vários anos de trabalho da WaterAid e CARE, em conjunto com ONGs implementadoras locais, e o sector privado envolvido no Projecto Piloto da Bomba de Corda, no âmbito do Projecto HAUPA (Higiene Ambiental e Uso Produtivo da Água).

Foram também incorporadas as experiências da Bomba de Corda, de outros países.

O Manual pretende apoiar todos os fabricantes da Bomba de Corda, de modo a garantir que as principais características da bomba correspondam a requisitos de qualidade simplificados, o que é importante para a montagem de peças sobressalentes.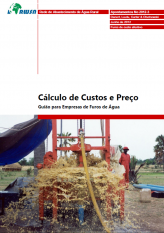 Downloads: 1212
---
Author: DANERT K., LUUTU, A., CARTER, R. and A. OLSCHEWSKI
Year of Publishing: 2012
Publisher: RWSN
Institution:
Esta nota de campo foi feita para empresas de perfuração de furos de água assim como agências que gerem, ou estão envol-vidas em projectos de perfuração. Usando uma abordagem cuidada, esta dá orientações claras de como são feitas as esti-mativas de custo e preço dos furos de água perfurados.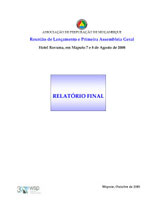 Downloads: 11
---
Author: APM
Year of Publishing: 2008
Publisher: ASSOCIAÇÃO DE PERFURAÇÃO DE MOÇAMBIQUE
Institution: WSP
O documento conceitual do evento diz que entre 300,000 a 500,000 furos serão necesários para o alcance dos Objectivos e Desenvolvimento do Milénio (ODM) em África. Destes, aproximadamente 20,0001 furos novos para o abastecimento de água às populações rurais, deverão ser feitos em Moçambique até 2015. A pergunta que se põe é: quem é que vai fazer esses furos e a que preço?

DISCLAIMER: This is a non-RWSN publication and endorsement by RWSN or any of its member organisations should not be inferred.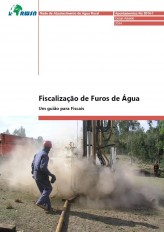 Downloads: 175
---
Author: ADEKILE, D.
Year of Publishing: 2014
Publisher: Rural Water Supply Network
Institution: RWSN/UNICEF
Boa fiscalização da execução de furos de água é essencial para a provisão de furos de água de longa duração. Estes apontamentos (guia) servem para ajudar aos geólogos e engenheiros encarrega-dos da fiscalização da construção de furos, bem como aos gestores de projectos. Estes podem ser usados para preparar-se uma for-mação, e também como um manual.
Downloads: 92
---
Author: ADEKILE, D
Year of Publishing: 2014
Publisher: RWSN
Institution: RWSN
A alta taxa de furos de água inoperacionais em muitas partes do mun-do é atribuído, em parte, à falta de profissionalismo no sector de perfu-ração. A fim de aumentar o acesso a um abastecimento de água segu-ro e sustentável, empreiteiras de perfuração competentes e experientes devem ser contratados. Da mesma forma, o equipamento adequado é necessária e consultores experientes são necessários para supervisionar a construção.
Pages: 1