RWSN Resources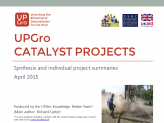 UPGro Catalyst projects
A synthesis and individual project activities and results
Downloads: 81
---
Author: UPGro
Year of Publishing: 2015
Publisher: Skat Foundation
Institution:
This report summarises the contribution to groundwater knowledge of the 15 catalyst projects funded through the UPGro programme between 2013 and 2014, plus the The Africa Groundwater Atlas and Literature Archive.
The projects worked in 12 individual countries (see next page - some countries had more than one project), and three had an Africa-wide focus or component.
At the time of writing two of the 15 projects are still running (Velasquez-Orta and Colombo). The Groundwater Atlas project will also continue as a major archive of African groundwater information.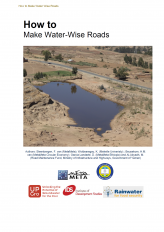 Downloads: 436
---
Author: Steenbergen, F. van, K. Woldearegay, H.M. van Beusekom, D. Garcia Landarte, and M. Al-Abyadh
Year of Publishing: 2014
Publisher: IFAD
Institution: Meta Meta, UPGro, RAIN
This note may serve as guideline on how to combine roads and water harvesting. The investment in roads in almost any country far exceeds that in local water management or watershed protection. Hence roads offer one of the largest opportunities to secure local water supplies, if done wisely and in an integrated way. This document describes both the governance and proceses to combine road development with water management as well as how recharge, retention and reuse (3R) of water can be enhanced through improved designs.

DISCLAIMER: This is a non-RWSN publication and endorsement by RWSN or any of its member organisations should not be inferred.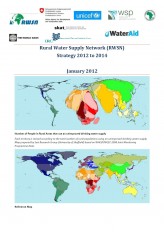 Downloads: 216
---
Author: RWSN
Year of Publishing: 2012
Publisher: RWSN
Institution:
The Final RWSN Strategy for 2012-2014, which describes the objectives, partners and activities. This includes 4 new themes and some new core partners.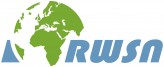 Downloads: 98
---
Author: RWSN
Year of Publishing: 2013
Publisher: RWSN
Institution:
The work plans below have been developed by the RWSN theme coordinators to manage activities within the network to work towards the objectives of the 2012-2014 RWSN Strategy.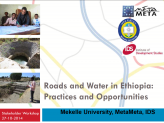 Downloads: 160
---
Author: Meta Meta Research / Mekelle University
Year of Publishing: 2014
Publisher: Meta Meta Research
Institution:
This is one of the 15 UPGro Catalyst Projects. This one looked at ways at which roads can be used to improve groundwater recharge in Ethiopia. Below are the presentations from the final project workshop which from this exciting project.

There are also links to some the final reports (filed separately).

DISCLAIMER: This is a non-RWSN publication and endorsement by RWSN or any of its member organisations should not be inferred.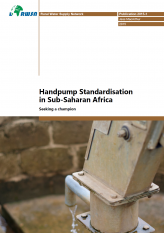 Downloads: 1091
---
Author: MacArthur, J.
Year of Publishing: 2015
Publisher: RWSN
Institution:
Handpump standardisation is the formal or informal mechanism that governs the varieties of community handpumps used within a particular country. In a handful of countries this also includes stand-ard handpump designs. With over a million handpumps in sub-Saharan Africa and new installations every day, handpump standardisation is still vital for the policy and practices of governments and implementing organisations. While rural water practitioners are polarised about the future of formal standardisation, the extent of informal standardisation is of significant importance to the sustain-ability of handpumps across the continent. Of the thirty-five countries in sub-Saharan using handpumps, formal standardisation has emerged in fifteen through regulations (nine countries), and endorsements (six countries). However in the remaining countries, informal standardisation determines what handpumps are installed where, either through recommendations (fourteen countries), or de facto standardisation (six countries).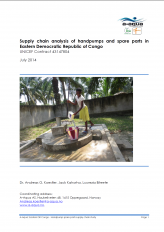 Downloads: 156
---
Author: Koestler, A.G., J. Kahorha, L. Biteete
Year of Publishing: 2014
Publisher: UNICEF
Institution: A-Aqua AS
This study is seen as an extension of a study carried out in 2009 by UNICEF, which mapped the handpumps and spare parts market in Africa as a whole. The study found that although large numbers of handpumps are sold in Africa each year, availability of spare parts at community level is still a great challenge. In addition, supply chains for handpumps and spare parts are normally separated, and there are challenges with availability, affordability as well as sufficient community structures to ensure demand.

DISCLAIMER: This is a non-RWSN publication and endorsement by RWSN or any of its member organisations should not be inferred.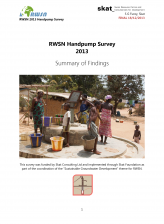 Downloads: 759
---
Author: FUREY S. G.
Year of Publishing: 2013
Publisher: Skat Foundation
Institution: Rural Water Supply Network
Manual pumps have been used for centuries but this simple technology remains the mainstay of rural water supplies in many countries. The Handpump Technology Network (which later became RWSN) was set up in 1992 to promote collaboration and standardisation so that handpumps could provide more reliable and better quality rural water services.

This survey is aimed at practitioners in government, NGOs, private sector and development partners who are directly involved in rural water service implementation, or who are involved in the procurement of handpumps or spare parts (as either a buyer or seller).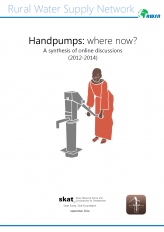 Handpumps: where now?
A synthesis of online discussions (2012-2014)
Downloads: 691
---
Author: FUREY S. G.
Year of Publishing: 2014
Publisher: RWSN
Institution: Skat Foundation
In 2012, RWSN established Dgroups.org as its online electronic platform for membership and discussion. The groundwater and handpump groups have been among the most active communities. The number and depth of contributions has been rich, and several members have asked for a synthesis of the discussions. They main topics that emerged were:
1. Water Quality - particularly iron and pump corrosion
2. Procurement, Quality Control and Installation
3. Sustaining handpumps - what is the average lifespan of a handpump?
4. Handpump component failures and the need to redesign public domain designs
5. The politics of new pump designs: the Squirrel Cage Pump

Join the debate at on dgroups, using the links below.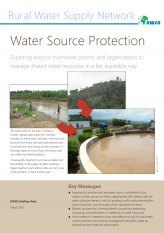 Water Source Protection
Exploring ways to incentivise citizens and organisations to manage shared water resources in a fair, equitable way.
Downloads: 269
---
Author: FUREY S. G.
Year of Publishing: 2015
Publisher: Skat Foundation
Institution: RWSN
What is a Water Source Protection Plan?
A Water Source Protection Plan can be an extension of Water Safety Planning. The plan is an agreed statement between stakeholders that establishes objectives, actions, responsibilities and funding. However, it should go beyond the needs of the water infrastructure and actively look for win-win opportunities:

Key Messages
Important to sensitise land and water users in catchments to the impacts of their actions on others; aligning their self-interests with the wider collective interest is vital for avoiding conflict and protecting the rights of poorest, and the quality of the natural environment.

Bottom-up planning is essential where conventional permitting, monitoring and enforcement is ineffective or under-resourced.

More evidence is needed to show how effective locally-focused water source protection and resource management are when scaled up beyond resource-intensive pilot projects.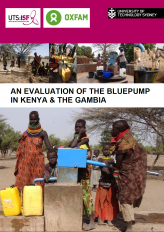 Downloads: 70
---
Author: Foster, T. & McSorely, B.
Year of Publishing: 2016
Publisher: University of Technology Sydney & Oxfam
Institution: Institute for Sustainable Futures
This report presents the results of an evaluation of the Fairwater BluePump, an emerging rural water supply technology in sub-Saharan Africa. Claims about the BluePump's durability and minimal maintenance requirements have provoked significant interest within the rural water sector. This evaluation set out to assess the suitability of the BluePump as a rural water supply technology, taking into account its operational performance, the experiences of water users, the views of local stakeholders, and the broader contextual factors that impinge upon its sustainability.
Downloads: 101
---
Author: ERPF, K. and GOMME, J.
Year of Publishing: 2005
Publisher: Rural Water Supply Network
Institution: Skat
The evaluation reviewed the MEDAIR project in rural areas around Maroantsetra. Shallow boreholes were drilled using a technique of rapid well jetting. Canzee pumps were installed and users were trained in maintenance.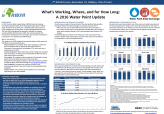 Downloads: 107
---
Author: Banks, B. & S. G. Furey
Year of Publishing: 2016
Publisher: RWSN
Institution: GWC/Skat
• An average of 78% of water points are functional across the 11 countries analyzed.

• The high failure rates early after installation are troubling: almost 15% after one year and 25% of water points are non-functional by their fourth year after installation. This indicates widespread problems with poor quality water point installation, due to a range of problems that may include professionalism and skills around contracts, construction and supervision; borehole siting; lack of quality control of hardware; or lack of post-construction monitoring and problem resolution.

• Handpumps are often singled out as technology that fails, but analysis of other water point types show similar functionality levels, and that tens of thousands of handpumps are providing a service

This poster was peer-reviewed and presented at the 7th RWSN Forum in Abidjan, Cote'Ivoire 2016.

It replaces "Handpump Data 2009 Selected Countries in Sub-Saharan Africa" (2009)
Pages: 1