RWSN Resources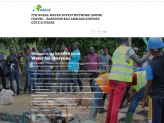 Downloads:
---
Author: FUREY, S. G. (editor)
Year of Publishing: 2017
Publisher: Skat Foundation
Institution: RWSN
The 2016 Rural Water Supply Network Forum in Abidjan was the first global gathering to consider the practical challenge of how everyone worldwide can get access to safe, affordable water by 2030. It was also the first RWSN Forum to take place in a francophone country, in the 25 years since the creation of the network.
The Forum gathered 467 rural water sector practitioners from over 300 organisations from 64 countries in Africa, Asia, Americas, and Europe, in a bilingual (English/French) four day event. It was opened by the Prime Minister of Côte d'Ivoire, Mr Daniel Kaplan Duncan. We were joined by HE State Minster James Dengchol Tot, Minister of Water, Irrigation and Electricity of Ethiopia, as well as a delegation from AMCOW.

This Forum proceedings compiles all peer-reviewed materials. Separate downloads and links to the films can be found at: https://rwsn7.net/content/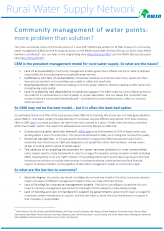 Downloads:
---
Author: Naughton, M.
Year of Publishing: 2017
Publisher: Skat
Institution: RWSN
This note summarizes some of the broad points of a June 2017 RWSN blog written by Dr Ellie Chowns on communitybased management (CBM) and the ensuing discussion on the RWSN Sustainable Services DGroup, to which many RWSN members contributed .

CBM is the prevalent management model for rural water supply. So what are the issues?
• Lack of accountability: Community management enables government officials and donors alike to abdicate responsibility for ensuring long-term sustainable water services.
• Inefficiency and lack of sustainability: Preventive maintenance is almost never done, repairs are often slow and sub-standard, and committees are unable to collect and save funds.
• Disempowerment: CBM reinforces existing community power relations, thereby breeding conflict rather than strengthening social capital.
• Lack of scalability and dependence on external support: The CBM model has never reliably worked at any scale but is continued due to a lack of viable, or proven alternative. One can always find 'successful' case studies of where it has worked fantastically well – but these tend to be isolated systems, reliant on constant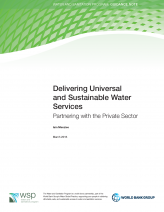 Downloads:
---
Author: Menzies I.
Year of Publishing: 2016
Publisher: WSP
Institution: The World Bank
The objective of this Guidance Note is to offer practical, experience-based guidance to those considering or currently
engaging in PPP in the water sector, and to provide a basic understanding of water PPPs and the PPP cycle to better
inform dialogue with governments that are considering PPP arrangements.

It builds on the experience of WSP in supporting PPP reforms in developing countries, especially through the domestic private sector. Key stakeholders in this dialogue include government at all levels, service providers, policy makers, customers, civil society, and professionals.

Many water PPP engagements in developing countries are more domestically oriented and at a smaller scale than international transactions. This Note outlines a rationale and approach for launching a water sector PPP so that government leaders and private sector providers can have informed discussions about the path forward should they choose to explore this approach in their countries.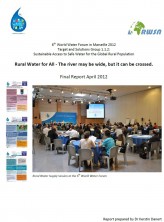 Downloads:
---
Author: DANERT, K.
Year of Publishing: 2012
Publisher: RWSN
Institution: Skat
6th World Water Forum in Marseille 2012
Target and Solutions Group 1.1.2: Sustainable Access to Safe Water for the Global Rural Population
In this report, you will learn more about the vibrant activities, as well as challenges and ideas for accelerating access to water supplies in rural areas. This work is set within the context of guaranteed access to water for all and the Human Right to Water.
Pages: 1