RWSN Resources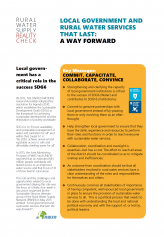 Downloads:
---
Author: RWSN
Year of Publishing: 2017
Publisher: Skat Foundation
Institution:
This paper is a synthesis of the major themes discussed during the local government e-discussion held during May 2015, which included 75 contributions from 58 people presenting experiences in English, French and Spanish and cases from 43 different countries from across the globe. Each week focused on a specific theme. Dedicated week facilitators introduced the theme in the beginning of the week, led the discussion during the week and summarised the main discussion points at the end of the week. The paper highlights the discussed role local government can and does play in ensuring sustainable water service provision, the challenges that local government is facing in fulfilling these roles and responsibilities, and the opportunities for overcoming these challenges.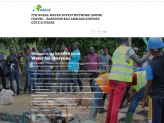 Downloads:
---
Author: FUREY, S. G. (editor)
Year of Publishing: 2017
Publisher: Skat Foundation
Institution: RWSN
The 2016 Rural Water Supply Network Forum in Abidjan was the first global gathering to consider the practical challenge of how everyone worldwide can get access to safe, affordable water by 2030. It was also the first RWSN Forum to take place in a francophone country, in the 25 years since the creation of the network.
The Forum gathered 467 rural water sector practitioners from over 300 organisations from 64 countries in Africa, Asia, Americas, and Europe, in a bilingual (English/French) four day event. It was opened by the Prime Minister of Côte d'Ivoire, Mr Daniel Kaplan Duncan. We were joined by HE State Minster James Dengchol Tot, Minister of Water, Irrigation and Electricity of Ethiopia, as well as a delegation from AMCOW.

This Forum proceedings compiles all peer-reviewed materials. Separate downloads and links to the films can be found at: https://rwsn7.net/content/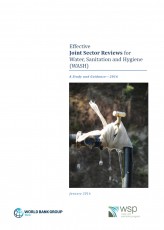 Downloads:
---
Author: DANERT, K, FUREY, S, MECHTA, M and GUPTA, S
Year of Publishing: 2016
Publisher: World Bank
Institution: World Bank
This is the first consolidated and referenced multicountry study of Water or Water, Sanitation and Hygiene (WASH) Joint Sector Reviews (JSRs). The study report and associated Learning Note and Poster provide an understanding of JSR processes and practical guidance on how to introduce and improve them. The study sets out a methodology in the form of visual checklists to reflect and take stock of WASH JSR processes. This could also form the foundation for subsequent cross-country comparisons of the JSR process.

The publications provide an analysis of JSRs as well as practical guidance on how to introduce and effectively manage them. The initial focus of the work was on JSRs in fragile states. However, the contested definitions of a fragile state, arbitrary thresholds as well as the realization that there are common issues with respect to JSRs in nonfragile countries led to a widening of the scope of countries studied. Notably, all countries included are considerably donor dependant for WASH. The study considered 25 countries, and found that between 2001 and 2015, WASH JSRs had taken place in 19 of them.

Note that these documents are review copies.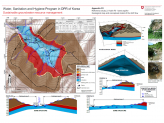 Downloads:
---
Author: BUSSARD, T.
Year of Publishing: 2016
Publisher: SDC
Institution:
The main objective of the present guideline is to ensure the protection of groundwater intended for human consumption. Consequently, it is mainly focused on the protection of groundwater sources (e.g. pumping well, tapped springs). However, although the protection of sensitive areas for drinking water supply must be given high priority, good practices have to be implemented at a larger scale too, in order to sustain the resources as well as the aquatic ecosystems: awareness must be built in order to avoid any contamination of the water cycle (quality aspect) and to preserve water resources (quantity aspect), in particular within the aquifer areas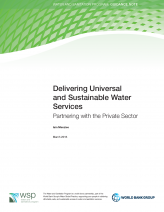 Downloads:
---
Author: Menzies I.
Year of Publishing: 2016
Publisher: WSP
Institution: The World Bank
The objective of this Guidance Note is to offer practical, experience-based guidance to those considering or currently
engaging in PPP in the water sector, and to provide a basic understanding of water PPPs and the PPP cycle to better
inform dialogue with governments that are considering PPP arrangements.

It builds on the experience of WSP in supporting PPP reforms in developing countries, especially through the domestic private sector. Key stakeholders in this dialogue include government at all levels, service providers, policy makers, customers, civil society, and professionals.

Many water PPP engagements in developing countries are more domestically oriented and at a smaller scale than international transactions. This Note outlines a rationale and approach for launching a water sector PPP so that government leaders and private sector providers can have informed discussions about the path forward should they choose to explore this approach in their countries.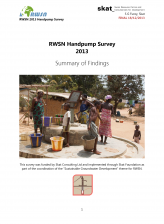 Downloads:
---
Author: FUREY S. G.
Year of Publishing: 2013
Publisher: Skat Foundation
Institution: Rural Water Supply Network
Manual pumps have been used for centuries but this simple technology remains the mainstay of rural water supplies in many countries. The Handpump Technology Network (which later became RWSN) was set up in 1992 to promote collaboration and standardisation so that handpumps could provide more reliable and better quality rural water services.

This survey is aimed at practitioners in government, NGOs, private sector and development partners who are directly involved in rural water service implementation, or who are involved in the procurement of handpumps or spare parts (as either a buyer or seller).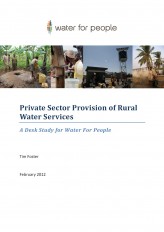 Downloads:
---
Author: Foster
Year of Publishing: 2012
Publisher: Water for People
Institution:
Community-based management remains the dominant approach to rural water supplies in Africa, Asia and Latin
America, though private sector provision is growing in importance

Self-supply offers a low-cost way to expand privately-managed supplies at a household level, though, with the notable exception of Zimbabwe, few formal initiatives have been scaled up beyond a pilot stage

Despite being the most common mode of rural water supply, handpumps are rarely managed by the private sector

Privately operated decentralised water treatment kiosks have emerged over the last decade (chiefly in India), though at this early stage have captured only a small share of the rural water market

Operation of piped schemes serving small towns is the most common modality of private sector involvement in rural water supplies

Full recovery of capital costs through user fees appears to be rare, particularly in rural Africa, thus widespread capital investment by private enterprises and entrepreneurs remains unlikely without external subsidies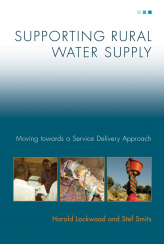 Downloads:
---
Author: LOCKWOOD, H. and SMITS, S.
Year of Publishing: 2011
Publisher: Practical Action Publishing Ltd.
Institution: IRC/Aguaconsult
Collectively, billions of dollars have been invested in the provision of rural water supply systems in developing countries over the past three decades. This period has also seen an evolution in thinking and practice around the approaches to delivering water supply to rural populations. We have moved from supply-driven centralised government programming to more demand-driven approaches, based on the philosophy of community participation with community-based management emerging as the principal management vehicle from the 1980s onwards in most countries. In more recent years there has been a call to build on community management with more structured systems of post-construction support and the increasing involvement of local private operators. Global monitoring results tell us that progress is being made and that even including population growth, we are increasing the rate of coverage in many, but not all, countries at a pace that will meet the Millennium Development Goals.

DISCLAIMER: This is a non-RWSN publication and endorsement by RWSN or any of its member organisations should not be inferred.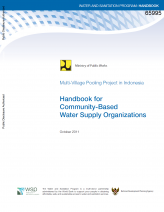 Downloads:
---
Author: World Bank
Year of Publishing: 2011
Publisher: World Bank
Institution:
The book discusses basic concepts on key topics to managing a small piped water system ideally for up to 1,000 households. It presents tools that can be adapted by Community-Based Water Organizations (CBOs) for use in their operations, such as forms, checklists and procedural guidelines. Illustrative examples have also been compiled from the experiences of the district local governments, support organizations and CBOs operating in East and West Java, who participated in the Multi-Village Pooling (MVP) Project. This toolkit seeks to compile a set of ready resources for organizations supporting Indonesian CBOs and CBOs themselves, which was not previously available despite many years of rural water investment projects. The book introduces fundamental concepts in an easy to-understand way, so that a number of discussions have been simplified. This will give users a basic understanding enough to seek further resources or references or advice from experts, which is encouraged.

DISCLAIMER: This is a non-RWSN publication and endorsement by RWSN or any of its member organisations should not be inferred.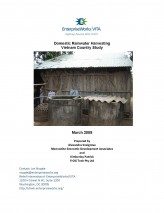 Downloads:
---
Author: Alexandra Snelgrove, Kimberley Patrick
Year of Publishing: 2009
Publisher: EnterpriseWorks/VITA
Institution: EnterpriseWorks/VITA
This reports summarizes the findings of a field study undertaken in Vietnam in 2009. An in-depth investigation of the sub-sector of domestic rainwater harvesting (DRWH) was undertaken. Enbaling conditions for the relatively high level of practie of DRWH in some regions of Vietnam were examined alonside potential threats for the further expansion of this practice, with a particular focus on the intention to introduce an alternative product to the standard mortar jars ("Thai Jars"). Recommendations are made on how to introduce and market the alternative product, developed by EnterpriseWorks/Vita as a flexible membrane container.

DISCLAIMER: This is a non-RWSN publication and endorsement by RWSN or any of its member organisations should not be inferred.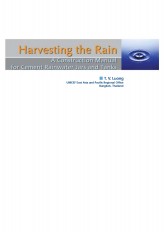 Harvesting the Rain
A construcction Manual for Cement Rainwater Jars and Tanks
Downloads:
---
Author: T.V. Luong
Year of Publishing: 2002
Publisher: UNICEF
Institution: UNICEF
The comprehensive manual was developed and published by UNICEF and gives a good overview of the construction process of the "Thai Jars", the large mortar jars which are very common in rural areas of Thailand and other parts of the world.

DISCLAIMER: This is a non-RWSN publication and endorsement by RWSN or any of its member organisations should not be inferred.
Pages: 1