RWSN Resources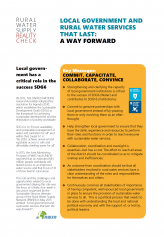 Downloads:
---
Author: RWSN
Year of Publishing: 2017
Publisher: Skat Foundation
Institution:
This paper is a synthesis of the major themes discussed during the local government e-discussion held during May 2015, which included 75 contributions from 58 people presenting experiences in English, French and Spanish and cases from 43 different countries from across the globe. Each week focused on a specific theme. Dedicated week facilitators introduced the theme in the beginning of the week, led the discussion during the week and summarised the main discussion points at the end of the week. The paper highlights the discussed role local government can and does play in ensuring sustainable water service provision, the challenges that local government is facing in fulfilling these roles and responsibilities, and the opportunities for overcoming these challenges.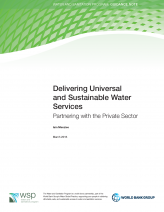 Downloads:
---
Author: Menzies I.
Year of Publishing: 2016
Publisher: WSP
Institution: The World Bank
The objective of this Guidance Note is to offer practical, experience-based guidance to those considering or currently
engaging in PPP in the water sector, and to provide a basic understanding of water PPPs and the PPP cycle to better
inform dialogue with governments that are considering PPP arrangements.

It builds on the experience of WSP in supporting PPP reforms in developing countries, especially through the domestic private sector. Key stakeholders in this dialogue include government at all levels, service providers, policy makers, customers, civil society, and professionals.

Many water PPP engagements in developing countries are more domestically oriented and at a smaller scale than international transactions. This Note outlines a rationale and approach for launching a water sector PPP so that government leaders and private sector providers can have informed discussions about the path forward should they choose to explore this approach in their countries.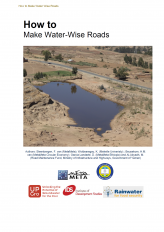 Downloads:
---
Author: Steenbergen, F. van, K. Woldearegay, H.M. van Beusekom, D. Garcia Landarte, and M. Al-Abyadh
Year of Publishing: 2014
Publisher: IFAD
Institution: Meta Meta, UPGro, RAIN
This note may serve as guideline on how to combine roads and water harvesting. The investment in roads in almost any country far exceeds that in local water management or watershed protection. Hence roads offer one of the largest opportunities to secure local water supplies, if done wisely and in an integrated way. This document describes both the governance and proceses to combine road development with water management as well as how recharge, retention and reuse (3R) of water can be enhanced through improved designs.

DISCLAIMER: This is a non-RWSN publication and endorsement by RWSN or any of its member organisations should not be inferred.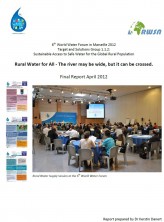 Downloads:
---
Author: DANERT, K.
Year of Publishing: 2012
Publisher: RWSN
Institution: Skat
6th World Water Forum in Marseille 2012
Target and Solutions Group 1.1.2: Sustainable Access to Safe Water for the Global Rural Population
In this report, you will learn more about the vibrant activities, as well as challenges and ideas for accelerating access to water supplies in rural areas. This work is set within the context of guaranteed access to water for all and the Human Right to Water.
Pages: 1