RWSN Resources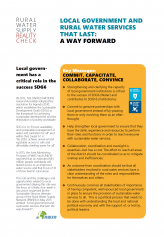 Downloads:
---
Author: RWSN
Year of Publishing: 2017
Publisher: Skat Foundation
Institution:
This paper is a synthesis of the major themes discussed during the local government e-discussion held during May 2015, which included 75 contributions from 58 people presenting experiences in English, French and Spanish and cases from 43 different countries from across the globe. Each week focused on a specific theme. Dedicated week facilitators introduced the theme in the beginning of the week, led the discussion during the week and summarised the main discussion points at the end of the week. The paper highlights the discussed role local government can and does play in ensuring sustainable water service provision, the challenges that local government is facing in fulfilling these roles and responsibilities, and the opportunities for overcoming these challenges.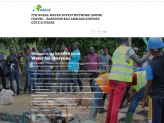 Downloads:
---
Author: FUREY, S. G. (editor)
Year of Publishing: 2017
Publisher: Skat Foundation
Institution: RWSN
The 2016 Rural Water Supply Network Forum in Abidjan was the first global gathering to consider the practical challenge of how everyone worldwide can get access to safe, affordable water by 2030. It was also the first RWSN Forum to take place in a francophone country, in the 25 years since the creation of the network.
The Forum gathered 467 rural water sector practitioners from over 300 organisations from 64 countries in Africa, Asia, Americas, and Europe, in a bilingual (English/French) four day event. It was opened by the Prime Minister of Côte d'Ivoire, Mr Daniel Kaplan Duncan. We were joined by HE State Minster James Dengchol Tot, Minister of Water, Irrigation and Electricity of Ethiopia, as well as a delegation from AMCOW.

This Forum proceedings compiles all peer-reviewed materials. Separate downloads and links to the films can be found at: https://rwsn7.net/content/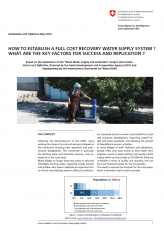 Downloads:
---
Author: ISW/SDC
Year of Publishing: 2016
Publisher: Federal Department of Foreign Affairs (FDFA)
Institution:
This Briefing Note outlines the results from more than 15 years of experience in both Tajikistan and Uzbekistan by the International Secretariat for Water (ISW) funded by the Swiss Agency for Development & Cooperation (SDC).
The note outlines the ways in which cost recovery has been been acheived and social tariffs set locally. However when it comes to scaling up there are certainly many hindering factors, not the least being the centralised structure of the States apparatus and deciding power.
It is essential to overcome political tariff challenges as there is resistance that can emerge from a heavy centralised past and the belief that at local level things cannot work properly without keeping them under central control.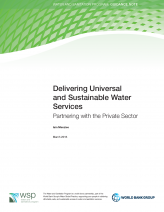 Downloads:
---
Author: Menzies I.
Year of Publishing: 2016
Publisher: WSP
Institution: The World Bank
The objective of this Guidance Note is to offer practical, experience-based guidance to those considering or currently
engaging in PPP in the water sector, and to provide a basic understanding of water PPPs and the PPP cycle to better
inform dialogue with governments that are considering PPP arrangements.

It builds on the experience of WSP in supporting PPP reforms in developing countries, especially through the domestic private sector. Key stakeholders in this dialogue include government at all levels, service providers, policy makers, customers, civil society, and professionals.

Many water PPP engagements in developing countries are more domestically oriented and at a smaller scale than international transactions. This Note outlines a rationale and approach for launching a water sector PPP so that government leaders and private sector providers can have informed discussions about the path forward should they choose to explore this approach in their countries.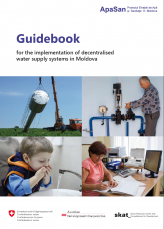 Downloads:
---
Author: Compilation: K. Klingel and S. Diener
Year of Publishing: 2014
Publisher: Skat Consulting Ltd
Institution: ApaSan, SDC, ADC
What is the guidebook about?
In 10 years of successful cooperation between Switzerland and Moldova, rural communities in Moldova have been supported with the construction of decentralised water supply systems. These new water supply systems use springs located close to the villages and distribute the water through a pipe network to the households of the community. The systems are managed by community based organisations, the Water
Consumer Associations (WCA). Such decentralised and community managed water supply systems have proven to be very successful in providing sustainable water supply for rural communities. This approach therefore merits wider application throughout rural Moldova. The aim of the guidebook is to make this experience available, with the hope that it is used to implement more systems that provide better and lasting water supply services for the rural population in Moldova.

DISCLAIMER: This is a non-RWSN publication and endorsement by RWSN or any of its member organisations should not be inferred.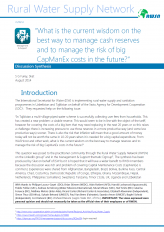 Downloads:
---
Author: FUREY S. G.
Year of Publishing: 2014
Publisher: RWSN
Institution: Skat
This document is a synthesis of an online discussion that took place in June 2014 on Dgroups (Management & Support Community) and on the "WSP-RWSN Webinar Discussions" LinkedIn group in response to the following question:

"In Tajikistan a multi-village piped water scheme is successfully collecting user fees from households. This has created a new problem: a sizable reserve. This would seem to be in line with the object of the tariff, however for covering the costs of a big item that may need replacing in the next 20 years or so this raises a challenge: there is increasing pressure to use those reserves in a more productive way (and some less productive ways) sooner. There is also the risk that inflation will mean that a good amount of money today will not be worth the same in 10-20 years when it is needed for a big capital expenditure. From WASHcost and other work, what is the current wisdom on the best way to manage reserves and to manage the risk of big CapManEx costs in the future?"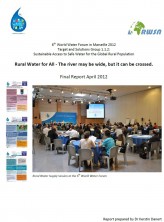 Downloads:
---
Author: DANERT, K.
Year of Publishing: 2012
Publisher: RWSN
Institution: Skat
6th World Water Forum in Marseille 2012
Target and Solutions Group 1.1.2: Sustainable Access to Safe Water for the Global Rural Population
In this report, you will learn more about the vibrant activities, as well as challenges and ideas for accelerating access to water supplies in rural areas. This work is set within the context of guaranteed access to water for all and the Human Right to Water.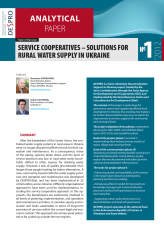 Downloads:
---
Author: SOROKOVSKYI, V. and A. OLSCHEWSKI,
Year of Publishing: 2012
Publisher: Skat
Institution: Despro
After the breakdown of the Soviet Union, the centralised water supply systems in rural areas in Ukraine were no longer allocated sufficient funds for their operation and maintenance. As a consequence, many of the piping systems broke down and the level of service provision was low. In rural areas many households shifted to other sources for drinking water supply. However, a lack of quality groundwater challenges those people looking for better alternatives. A new, community-based model for water supply provision and operation and maintenance was developed by DESPRO/Skat, and has been implemented in 33 communities across Ukraine. Different organisational approaches have been used for implementation, including the service cooperative approach. In this approach, the beneficiaries are extensively involved in all levels of planning, implementation, and operation and maintenance activities. It considers equity and inclusion and looks sustainable, in terms of long-term provision of services within the current legal and economic context. This approach also shows great potential to be scaled up outside the two regions.

DISCLAIMER: This is a non-RWSN publication and endorsement by RWSN or any of its member organisations should not be inferred.
Pages: 1