RWSN Resources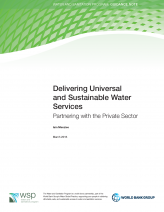 Downloads:
---
Author: Menzies I.
Year of Publishing: 2016
Publisher: WSP
Institution: The World Bank
The objective of this Guidance Note is to offer practical, experience-based guidance to those considering or currently
engaging in PPP in the water sector, and to provide a basic understanding of water PPPs and the PPP cycle to better
inform dialogue with governments that are considering PPP arrangements.

It builds on the experience of WSP in supporting PPP reforms in developing countries, especially through the domestic private sector. Key stakeholders in this dialogue include government at all levels, service providers, policy makers, customers, civil society, and professionals.

Many water PPP engagements in developing countries are more domestically oriented and at a smaller scale than international transactions. This Note outlines a rationale and approach for launching a water sector PPP so that government leaders and private sector providers can have informed discussions about the path forward should they choose to explore this approach in their countries.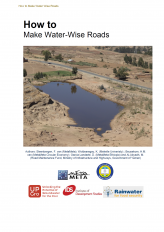 Downloads:
---
Author: Steenbergen, F. van, K. Woldearegay, H.M. van Beusekom, D. Garcia Landarte, and M. Al-Abyadh
Year of Publishing: 2014
Publisher: IFAD
Institution: Meta Meta, UPGro, RAIN
This note may serve as guideline on how to combine roads and water harvesting. The investment in roads in almost any country far exceeds that in local water management or watershed protection. Hence roads offer one of the largest opportunities to secure local water supplies, if done wisely and in an integrated way. This document describes both the governance and proceses to combine road development with water management as well as how recharge, retention and reuse (3R) of water can be enhanced through improved designs.

DISCLAIMER: This is a non-RWSN publication and endorsement by RWSN or any of its member organisations should not be inferred.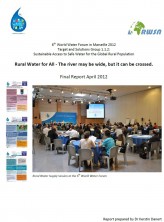 Downloads:
---
Author: DANERT, K.
Year of Publishing: 2012
Publisher: RWSN
Institution: Skat
6th World Water Forum in Marseille 2012
Target and Solutions Group 1.1.2: Sustainable Access to Safe Water for the Global Rural Population
In this report, you will learn more about the vibrant activities, as well as challenges and ideas for accelerating access to water supplies in rural areas. This work is set within the context of guaranteed access to water for all and the Human Right to Water.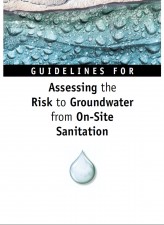 Downloads:
---
Author: Lawrence, A., Macdonald, D., Howard, A., Barrett, M., Pedley, S., Ahmed, K., Nalubega, M.
Year of Publishing: 2001
Publisher: British Geological Survey 2001
Institution:
There has been encouraging progress with access to safe drinking water and sanitation in both rural and urban areas since the United Nations Water Decade of the 1980s. However, more than 1 billion people around the world still lack access to safe water supplies and more than 2.4 billion are without adequate sanitation. A substantial majority of these people live in Asia where the lack of sanitation provision is particularly acute. In Africa, over one third of the population still remains without access to safe water and sanitation, and many of these can only be served by groundwater. The need for renewed efforts to improve the situation is recognised in DFID's recently published water strategy paper - ''Addressing the Water Crisis - Healthier and More Productive Lives for Poor People''.

These guidelines are an important contribution to risk assessment and the avoidance of the contamination of groundwater supplies from on-site sanitation. They have been development as part of a project funded by DFID through the water component of the Infrastructure and Urban Development Division's Knowledge and Research Programme.
Pages: 1