RWSN Resources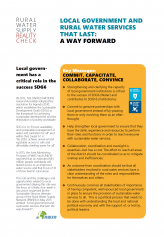 Downloads:
---
Author: RWSN
Year of Publishing: 2017
Publisher: Skat Foundation
Institution:
This paper is a synthesis of the major themes discussed during the local government e-discussion held during May 2015, which included 75 contributions from 58 people presenting experiences in English, French and Spanish and cases from 43 different countries from across the globe. Each week focused on a specific theme. Dedicated week facilitators introduced the theme in the beginning of the week, led the discussion during the week and summarised the main discussion points at the end of the week. The paper highlights the discussed role local government can and does play in ensuring sustainable water service provision, the challenges that local government is facing in fulfilling these roles and responsibilities, and the opportunities for overcoming these challenges.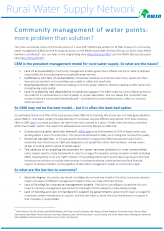 Downloads:
---
Author: Naughton, M.
Year of Publishing: 2017
Publisher: Skat
Institution: RWSN
This note summarizes some of the broad points of a June 2017 RWSN blog written by Dr Ellie Chowns on communitybased management (CBM) and the ensuing discussion on the RWSN Sustainable Services DGroup, to which many RWSN members contributed .

CBM is the prevalent management model for rural water supply. So what are the issues?
• Lack of accountability: Community management enables government officials and donors alike to abdicate responsibility for ensuring long-term sustainable water services.
• Inefficiency and lack of sustainability: Preventive maintenance is almost never done, repairs are often slow and sub-standard, and committees are unable to collect and save funds.
• Disempowerment: CBM reinforces existing community power relations, thereby breeding conflict rather than strengthening social capital.
• Lack of scalability and dependence on external support: The CBM model has never reliably worked at any scale but is continued due to a lack of viable, or proven alternative. One can always find 'successful' case studies of where it has worked fantastically well – but these tend to be isolated systems, reliant on constant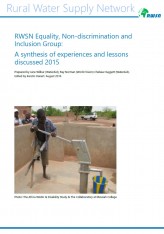 Downloads:
---
Author: Wilbur J., Norman R., Huggett C.
Year of Publishing: 2016
Publisher: RWSN
Institution: RWSN
Between October and November 2015 the Rural Water Supply Network's Equality, Non-discrimination and Inclusion (ENDI) theme enjoyed lively e-discussions on Reducing Inequalities in WASH. This covered practical approaches to improve participation of everyone; inclusive infrastructure designs and information, guidance and support that exist on these. Two webinars were held on these topics, with presentations from World Vision, Messiah College, WaterAid, FCG International, and the University of Technology – Sydney . Disability, gender, menstrual hygiene management, rights to water and sanitation and school WASH from Mali, Niger, Tanzania, Nepal, Ghana, Timor-Leste and Vietnam were covered. During the e-discussions independent consultants and staff from the Church of Uganda, TEDDO, WaterAid, WEDC, Mzuzu University, the Honduran Association of Management Boards of Water Systems, Concern Worldwide, Auguaconsult, the University of Denver, the World Bank, Amref Health, Islamic Relief Worldwide, Messiah College and World Vision shared experiences. These were drawn from their or their organisation's work in Uganda, Vietnam, Mali, Madagascar, Zambia, Nepal, Chad, Timor Leste, Tanzania, Niger, Honduras and Pakistan. Throughout the e-discussions and webinars the primary scope was rural water supply, but sanitation and hygiene were considered when relevant.

This report synthesises the online discussions, draws on relevant content from the webinars and highlights experiences and lessons learnt. It is not an extensive literature review, but does draw on existing literature beyond what was discussed during the e-discussions.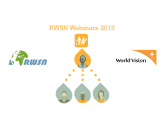 Downloads:
---
Author: OLSCHEWSKI, A.
Year of Publishing: 2015
Publisher: Skat Foundation
Institution: RWSN
This short summary highlights some of the issues that emerged from the presentations and discussions.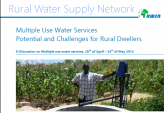 Downloads:
---
Author: MUS Group/RWSN
Year of Publishing: 2014
Publisher: RWSN
Institution:
Multiple Use Water Services - Potential and Challenges for Rural Dwellers.
E-Discussion on Multiple use water services, 28th of April – 24th of May 2014.

Service d'eau à usage multiple - Potentiel et défis pour les habitants en milieu rural.
Discussion en ligne sur les services d'eau à usage multiple, le 28 Avril – 24 Mai 2014.

Servicios de uso múltiple del agua - El potencial y los desafíos para su adopción en áreas rurales
Discusión electrónica sobre los servicios de uso múltiple del agua, del 28 de abril al 24 de mayo de 2014

https://dgroups.org/RWSN/selfsupply/mus/join
Making rights a reality / Des droits à la réalité / Hacer los derechos realidad
Summary of RWSN e-discussion on rights to water and sanitation / Résumé des discussions en ligne de RWSN sur les droits à l'eau et l'assainissement / Resumen del debate electrónico RWSN sobre los derechos al agua y al saneamiento
Downloads:
---
Author: de Albuquerque, C.
Year of Publishing: 2014
Publisher: RWSN
Institution: RWSN
The RWSN equity and inclusion theme hosted an e-discussion to feed in to the Special Rapporteur's handbook for realising the rights to water and sanitation. The discussion took place through the equity d-group from 28th October to 15th November 2013, and focussed on three areas: non-discrimination, sustainability and the specific roles and responsibilities.

Le groupe "Equité & Inclusion" du RWSN a organisé une discussion en ligne pour nourrir le manuel du Rapporteur Spécial pour la réalisation des droits à l'eau et à l'assainissement. La discussion a été menée via le d-group Equité du 28 Octobre au 15 Novembre 2013 et s'est focalisée sur les points suivants: non-discrimination, durabilité et les rôles et les responsabilités spécifiques.

El tema de la equidad y la inclusión RWSN organizó un debate electrónico para alimentar el manual del Relator Especial para la realización de los derechos al agua y al saneamiento. Las discusiones se llevaron a cabo a través del grupo-d entre el 28 de octubre y el 15 de noviembre, 2013, y se centraron en tres áreas: la no discriminación, sostenibilidad y las funciones y responsabilidades específicas.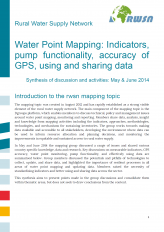 Downloads:
---
Author: PEARCE, J.
Year of Publishing: 2014
Publisher: RWSN
Institution: WaterAid/IRC
The mapping topic was created in August 2012 and has rapidly established as a strong visible element of the rural water supply network. The main component of the mapping topic is the Dgroups platform, which enables members to discuss technical, policy and management issues around water point mapping, monitoring and reporting. Members share data, analysis, insight and knowledge from mapping activities including the indicators, approaches, methodologies, technologies, and mechanisms for sustaining inventories. The group works towards making data available and accessible to all stakeholders, developing the environment where data can be used to inform resource allocation and planning decisions, and monitoring the improvements in equitable and sustained access to rural water supply.

In May and June 2014 the mapping group discussed a range of issues and shared various country specific knowledge, data and research. Key discussions on measurable indicators, GPS accuracy, water point monitoring, pump functionality, and effectively using data are summarised below. Group members discussed the potentials and pitfalls of technologies to collect, update, and share data, and highlighted the importance of resilient processes in all areas of water point mapping and updating data. Members raised the necessity of standardising indicators and better using and sharing data across the sector.

This synthesis aims to present points made in the group discussions and consolidate them within thematic areas, but does not seek to draw conclusions from the content.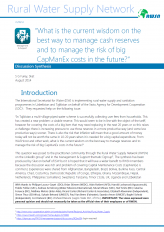 Downloads:
---
Author: FUREY S. G.
Year of Publishing: 2014
Publisher: RWSN
Institution: Skat
This document is a synthesis of an online discussion that took place in June 2014 on Dgroups (Management & Support Community) and on the "WSP-RWSN Webinar Discussions" LinkedIn group in response to the following question:

"In Tajikistan a multi-village piped water scheme is successfully collecting user fees from households. This has created a new problem: a sizable reserve. This would seem to be in line with the object of the tariff, however for covering the costs of a big item that may need replacing in the next 20 years or so this raises a challenge: there is increasing pressure to use those reserves in a more productive way (and some less productive ways) sooner. There is also the risk that inflation will mean that a good amount of money today will not be worth the same in 10-20 years when it is needed for a big capital expenditure. From WASHcost and other work, what is the current wisdom on the best way to manage reserves and to manage the risk of big CapManEx costs in the future?"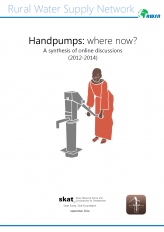 Handpumps: where now?
A synthesis of online discussions (2012-2014)
Downloads:
---
Author: FUREY S. G.
Year of Publishing: 2014
Publisher: RWSN
Institution: Skat Foundation
In 2012, RWSN established Dgroups.org as its online electronic platform for membership and discussion. The groundwater and handpump groups have been among the most active communities. The number and depth of contributions has been rich, and several members have asked for a synthesis of the discussions. They main topics that emerged were:
1. Water Quality - particularly iron and pump corrosion
2. Procurement, Quality Control and Installation
3. Sustaining handpumps - what is the average lifespan of a handpump?
4. Handpump component failures and the need to redesign public domain designs
5. The politics of new pump designs: the Squirrel Cage Pump

Join the debate at on dgroups, using the links below.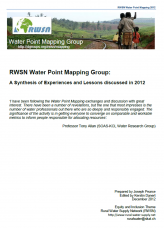 Downloads:
---
Author: PEARCE, J. and C. HOWMAN
Year of Publishing: 2013
Publisher: RWSN
Institution:
The Rural Water Supply (RWSN) Dgroup for Water Point Mapping has enjoyed lively discussion since its launch in August 2012. Although mapping is still in its pilot-phase in many countries, WASH programmes and projects are increasingly using mapping as a tool to support their work. This report synthesises the online discussions that took place in 2012, highlighting the experiences and lessons learned.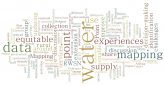 Downloads:
---
Author: PEARCE, J. and DANERT K.
Year of Publishing: 2013
Publisher: RWSN
Institution:
This structured e-discussion will enable participants to reflect on the discussions to-date, and move on to share experiences and ideas on the way in which information obtained through mapping is actually used.

Cette e-discussion structurée permettra aux participants de réfléchir sur les discussions actuelles et d'évoluer pour partager les expériences et les idées sur la façon avec laquelle les informations obtenues à travers la cartographie sont effectivement utilisées.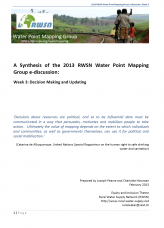 Downloads:
---
Author: PEARCE, J. and C. HOWMAN
Year of Publishing: 2013
Publisher: RWSN
Institution: WaterAid
A three week e-discussion was held on Dgroups discussing questions around water point mapping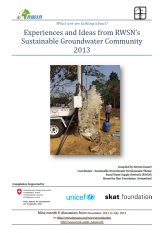 Downloads:
---
Author: DANERT, K
Year of Publishing: 2013
Publisher: RWSN
Institution: RWSN
The RWSN's Sustainable Groundwater Development community (http://next.dgroups.org/rwsn/groundwater) comprises over 500 members from 69 countries. There has been vibrant exchange and debates on topics such as national groundwater policies, gravel packing, drilling technologies, the life of a handpump and many more. This synthesis pulls together the many ideas, opinions, experiences and suggestions from the online community and makes recommendations for a collaborative way forward.
Pages: 1