RWSN Collaborations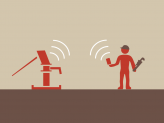 'Smart Handpumps'
Handpumps can be better - who is leading the way?
Project start: • Project finished:
Collaborators: Several
Funder: Several

Summary:
Drilling a borehole and installing a handpump is a common way to improve access to water for rural (and urban) people in many parts of the world. However, the failure of these water points is shockingly high, a third in many African and Asian countries and often much higher.

New communications technology is opening up the possibilities for 'Smart Handpumps' - handpumps that actively record how and when they are used and transmits that data to an organisation who can use that information to (a) mobilise targeted maintenance and repairs; (b) identity priority areas for future improvements and investments; (c) to understand the user needs better, and main other reasons that shift rural water supply away from 'fire-and-forget' projects and towards water services that last and that reach everyone.