RWSN Collaborations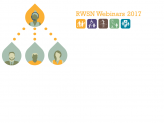 New 2017 RWSN Webinar series (18th April - 13th June 2017)
Nouvelle série de webinaires RWSN 2017 (18 avril - 13 juin 2017) / Nueva serie de webinarios RWSN (18 de abril - 13 de junio 2017)
Project start: 2017 • Project finished: 2017
Collaborators: RWSN
Funder: RWSN

Summary:
ENG: RWSN is delighted to announce the first of the 2017 series of webinars (on-line seminars) on rural water supply, running every Tuesday from April 18th, 2017 until June 13th, 2017. This series includes 9 weekly sessions on topics, which were presented and debated during the 2016 RWSN Forum in Abidjan, and related to the RWSN themes. For instance, we will find out about local government superheroes and their role in realising the human right to water and sanitation, but also hear about emerging cross-cutting issues such as improving WASH services in protracted crises. Each session will be bilingual, with one webinar in English as well as another language (French or Spanish) as we are trying to cater for a wide and varied audience. The format includes 1-2 presentations, comments from discussants, and a Question & Answer session where all participants are invited to ask questions or make comments. For more details on the first 2017 series, please refer to the table below.
The webinars in English start at 2.30 pm Paris time/ 1.30 pm London time/ 8.30 am Washington DC time. You can check your local time here. To register for one or all of the webinars, and receive an invitation please click on the following link: http://bit.ly/2movPGM

FR : Le RWSN a le plaisir de vous annoncer une nouvelle série de webinaires en 2017 (les séminaires en ligne) qui auront lieu les mardis, du 18 avril 2017 au 13 juin 2017. Cette série comprend 9 sessions hebdomadaires sur des sujets ayant été présentés et débattus lors du RWSN Forum à Abidjan en 2016, et correspondant aux thèmes RWSN. Par exemple, on apprendra le rôle des superhéros des gouvernements locaux pour la réalisation du droit à l'eau et à l'assainissement, mais on découvrira également des sujets transversaux émergeants tels que l'amélioration des services EAH dans les cas de crises prolongées. Chaque session sera bilingue, avec un webinaire en anglais et dans une autre langue (espagnol ou français) selon le sujet, nous souhaitons en effet toujours toucher le public le plus large dans toute sa diversité ! Les thèmes abordés sont le droit humain à l'eau et à l'assainissement, l'auto-approvisionnement, la durabilité des services et le cadre de référence d'applicabilité des technologies. Chaque session comprend 1 ou 2 présentations, des réactions de la part d'un ou plusieurs intervenants et une partie Questions/Réponses lors de laquelle tous les participant(e)s peuvent poser leurs questions ou réagir aux échanges. Vous trouverez le détail de cette première série de webinaires de 2017 dans le tableau ci-dessous.
Les webinaires en français sont à 11h heure de Paris/ 9h heure de Dakar. Pour vérifier l'horaire du webinaire, vous pouvez cliquer ici. Pour vous inscrire à l'un ou à tous les webinaires de cette série et recevoir une invitation, cliquez ici : http://bit.ly/2movPGM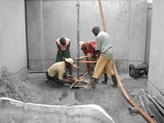 Project start: 2013 • Project finished: 2014
Collaborators: UNICEF, Skat Foundation
Funder: UNICEF, Skat Foundation

Summary:
Building and supporting local enterprises to develop markets and undertake manual drilling in a professional manner.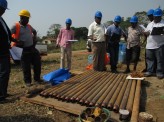 Project start: 2013 • Project finished: 2014
Collaborators: Skat Foundation, Ministry of Water Resources Sierra Leone, WASH Facility Sierra Leone, UKaid
Funder: Department for International Development

Summary:
Borehole drilling is relatively underdeveloped in Sierra Leone compared to other countries in West Africa despite its potential. An eight-month project "Tapping Treasure: Cost-effective boreholes in Sierra Leone" supports: (i) government and NGOs to develop their capacity to manage borehole drilling and (ii) drillers to manage risks. The project will contribute to increasing the demand for boreholes, reducing the cost of drilling and improving construction quality.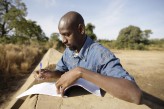 Project start: 2012 • Project finished: -
Collaborators: RWSN, Skat, WaterAid, SHARE, Waterlines Journal
Funder: SHARE

Summary:
The Challenge

Over 2.5 billion have no access to improved sanitation and 780 million people lack access to improved sources of drinking water, according to the WHO/UNICEF Joint Monitoring Programme (2012). The numbers are staggering. The suffering is real. The challenge to overcome is immense. Success can only come through a combination of action and communication. Both are critical.
We have a vision where Water, Sanitation and Hy-giene (WASH) professionals are regularly sharing and learning – at all levels from districts to global networks. As a sector, we also need to reach out and communicate with wide range of audiences: politicians, policymakers, companies, water users, and the public in all countries.
We often have the content: experiences, data, pro-jects, methodologies and stories of success and failure. What we are often not great at is explaining ourselves to others in a way that leads to positive action.
We want to change that.