RWSN Collaborations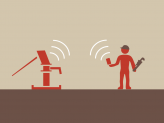 'Smart Handpumps'
Handpumps can be better - who is leading the way?
Project start: • Project finished:
Collaborators: Several
Funder: Several

Summary:
Drilling a borehole and installing a handpump is a common way to improve access to water for rural (and urban) people in many parts of the world. However, the failure of these water points is shockingly high, a third in many African and Asian countries and often much higher.

New communications technology is opening up the possibilities for 'Smart Handpumps' - handpumps that actively record how and when they are used and transmits that data to an organisation who can use that information to (a) mobilise targeted maintenance and repairs; (b) identity priority areas for future improvements and investments; (c) to understand the user needs better, and main other reasons that shift rural water supply away from 'fire-and-forget' projects and towards water services that last and that reach everyone.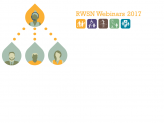 New 2017 RWSN Webinar series (18th April - 13th June 2017)
Nouvelle série de webinaires RWSN 2017 (18 avril - 13 juin 2017) / Nueva serie de webinarios RWSN (18 de abril - 13 de junio 2017)
Project start: 2017 • Project finished: 2017
Collaborators: RWSN
Funder: RWSN

Summary:
ENG: RWSN is delighted to announce the first of the 2017 series of webinars (on-line seminars) on rural water supply, running every Tuesday from April 18th, 2017 until June 13th, 2017. This series includes 9 weekly sessions on topics, which were presented and debated during the 2016 RWSN Forum in Abidjan, and related to the RWSN themes. For instance, we will find out about local government superheroes and their role in realising the human right to water and sanitation, but also hear about emerging cross-cutting issues such as improving WASH services in protracted crises. Each session will be bilingual, with one webinar in English as well as another language (French or Spanish) as we are trying to cater for a wide and varied audience. The format includes 1-2 presentations, comments from discussants, and a Question & Answer session where all participants are invited to ask questions or make comments. For more details on the first 2017 series, please refer to the table below.
The webinars in English start at 2.30 pm Paris time/ 1.30 pm London time/ 8.30 am Washington DC time. You can check your local time here. To register for one or all of the webinars, and receive an invitation please click on the following link: http://bit.ly/2movPGM

FR : Le RWSN a le plaisir de vous annoncer une nouvelle série de webinaires en 2017 (les séminaires en ligne) qui auront lieu les mardis, du 18 avril 2017 au 13 juin 2017. Cette série comprend 9 sessions hebdomadaires sur des sujets ayant été présentés et débattus lors du RWSN Forum à Abidjan en 2016, et correspondant aux thèmes RWSN. Par exemple, on apprendra le rôle des superhéros des gouvernements locaux pour la réalisation du droit à l'eau et à l'assainissement, mais on découvrira également des sujets transversaux émergeants tels que l'amélioration des services EAH dans les cas de crises prolongées. Chaque session sera bilingue, avec un webinaire en anglais et dans une autre langue (espagnol ou français) selon le sujet, nous souhaitons en effet toujours toucher le public le plus large dans toute sa diversité ! Les thèmes abordés sont le droit humain à l'eau et à l'assainissement, l'auto-approvisionnement, la durabilité des services et le cadre de référence d'applicabilité des technologies. Chaque session comprend 1 ou 2 présentations, des réactions de la part d'un ou plusieurs intervenants et une partie Questions/Réponses lors de laquelle tous les participant(e)s peuvent poser leurs questions ou réagir aux échanges. Vous trouverez le détail de cette première série de webinaires de 2017 dans le tableau ci-dessous.
Les webinaires en français sont à 11h heure de Paris/ 9h heure de Dakar. Pour vérifier l'horaire du webinaire, vous pouvez cliquer ici. Pour vous inscrire à l'un ou à tous les webinaires de cette série et recevoir une invitation, cliquez ici : http://bit.ly/2movPGM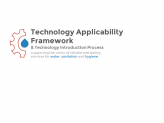 WASHTech
Bringing innovative WASH technologies to Africa
Project start: 2011 • Project finished: 2013
Collaborators: WaterAid, IRC, Skat, Netwas, Knust, WSFA
Funder: European Union Framework Protocol 7

Summary:
This EU-funded project is developing and testing a Technology Assessment Framework (TAF) to allow governments, donors and NGOs to evaluate the usefulness of new technologies for a specific national, regional or local context, and support promising technologies from piloting to mainstream use.