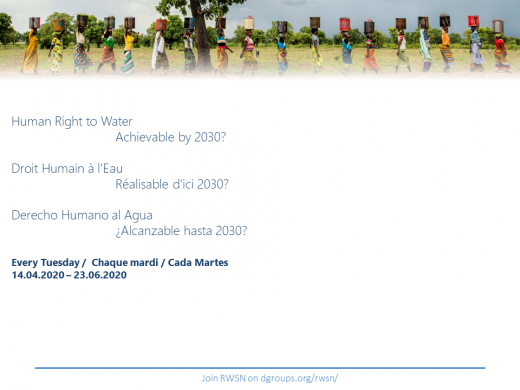 RWSN webinars 2020
© 2020 RWSN • RWSN
Project starts: 2020
Project finished: 2020
Collaborators & Partners: IRC, Simavi, Skat, UNC Water Institute, Unicef, WaterAid, World Bank and all speakers and Chairs
Funder: SDC, UKAid (UPGro and REACH programmes)
---
Summary
RWSN webinars return! Join the global conversation with leading thinkers and practitioners in rural water supply and WASH. These webinars are free for participants, thanks the support of our series sponsor (SDC) and webinar sponsors (UK Aid through UPGro and REACH)

ENGLISH - every Tuesday @14:30 Central European Summer Time (CEST)

14 April Demystifying the human right
21 April Using data for water safety
28 April Monitoring SDG targets
05 May JMP database on inequalities
12 May Right for a regulated and sustainable service
19 May RWSN Mentoring Programme
26 May Importance of Household Investments
02 June Borehole Drilling Associations
09 June Affordability
16 June A Hidden Crisis?
---
Project Description
FRANCAIS - Chaque mardi @ 11.00 CEST

14 Avril Démystifier le droit humain
21 Avril Utilisation de données et sécurité hydrique
28 Avril Suivi des cibles des ODD
05 Mai Base de données JMP sur les inégalités
12 Mai Le droit à un service réglementé et durable
19 Mai Programme de Mentorat de RWSN
26 Mai Importance des Investissements des Ménages
02 Juin Associations de Forage
16 Juin Une crise cachée?
23 Juin Accessibilité économique

ESPANOL/CASTELLANO - cada Martes @ 16.30 CEST

21 Abril Uso de datos para la seguridad hídrica
28 Abril Monitorear las metas de los ODS
05 Mayo Base de datos del JMP sobre las desigualdades
12 Mayo El derecho a un servicio regulado y sostenible
---
More Information
Contrôleur de fuseau horaire / Comprobador de la zona horaria
» Register for English webinars
» Inscrivez -vous aux webinaires en français: